Oct 24, 2020 07:17 PM Central
Beth Aust
So You are ready to make the most AWESOME jump into essential oils? It is literally an AMAZING experience! Essential oils are amazing for wellness, once you get started and begin to learn (no worries-we have a ton of learning resources for you)-You will begin to notice how many toxic, synthetic products are in your home. Our bodies DON'T speak synthetic! Gaining knowledge will show you that YOU can shift to a safer, convenient Young Living products instead.
I got started and switched over-everything from candles to diffusers, replacing my toothpaste, deodorant, makeup , housecleaner, supplements and body care. I am SO grateful for what I have learned. Being a nurse and nature lover, I am concerned about bioaccumalation (toxic buildup) of prolonged exposure to toxins and the effects they can have on our bodies, our pets AND the environment.
I am going to walk you through your options with Young Living. If you want to know WHY I only use Young Living; you can learn more
HERE
---
Who wants to pay full price when you can get the same thing at a discount?
Young Living has several options to help you get started and snag the best deal possible. Even if you already have your own Young Living account, there are still some money-saving tricks you need to know!
GOOD
Head over to www.youngliving.com and add items to your cart! You will pay the higher amount shown and set up a retail account. You can upgrade to a wholesale membership at any time if you wish to get a 24% discount on all your purchases!
---
BETTER
Go ahead and upgrade that retail account to wholesale OR dive right in with the starter kit of your choice! These starter kits get you that coveted 24% wholesale discount on all your purchases plus access to even MORE membership perks like Essential Rewards and community support. Choose the kit that's right for you!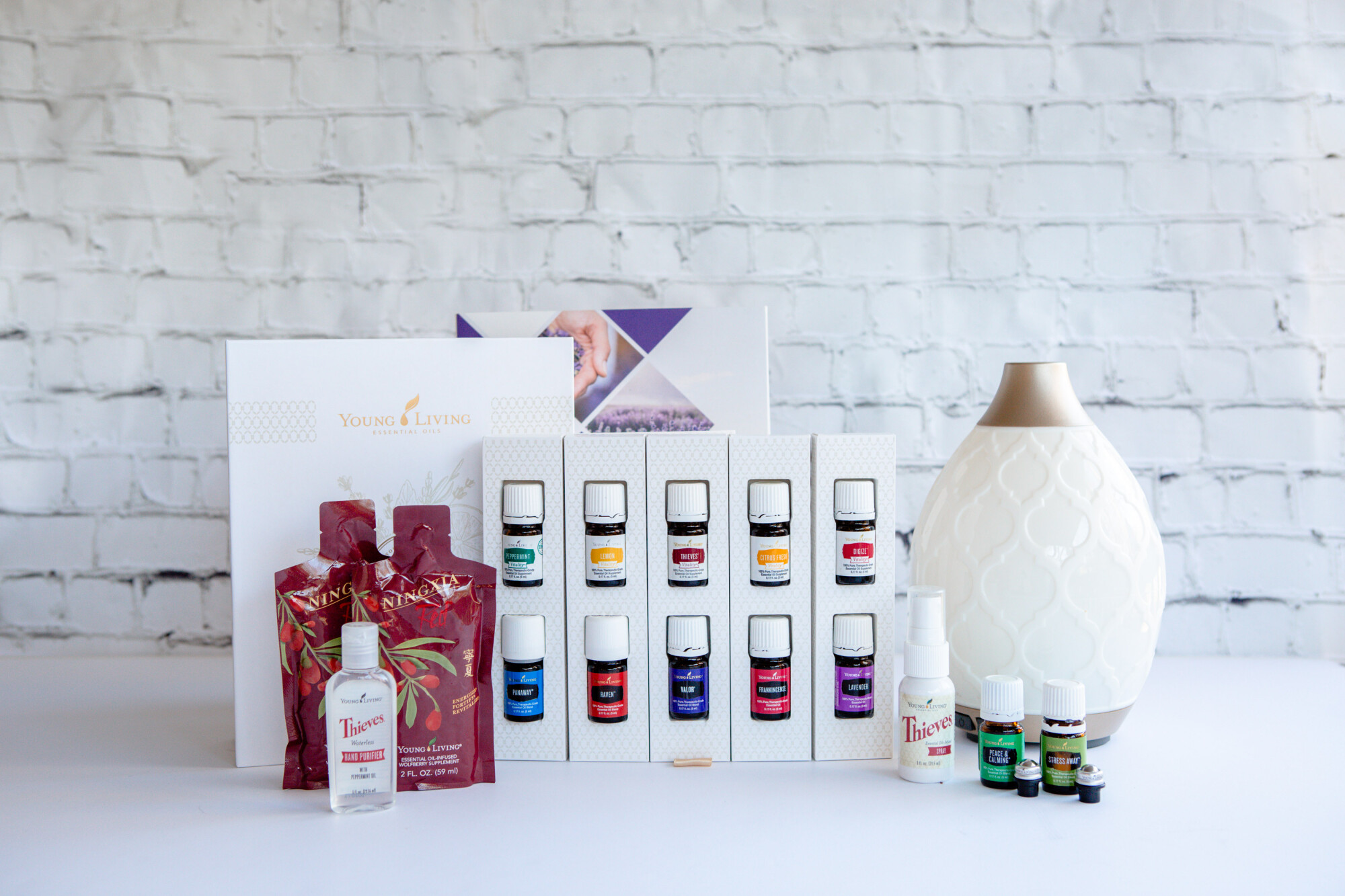 Essential Oils Premium Starter Bundle $165

Includes 12 of the most popular oils, 10 Thieves Waterless Hand Purifier Sachets, Thieves Spray, 2 AromaGlide Roller Fitments, 2 NingXia Red 2-oz. Samples

Choice of diffuser: Desert Mist or Dewdrop, Rainstone (add $45)

Qualifies for FREE shipping

---

CBD Regular Strength Premium Starter Bundle $165

300 mg Calm CBD Roll-On, 500 mg Citrus CBD Oil, 300 mg CBD Muscle Rub

Qualifies for FREE shipping OR

CBD Extra Strength Premium Starter Bundle $250

600 mg Calm CBD Roll-On, 1000 mg Citrus CBD Oil, 600 mg CBD Muscle Rub

Qualifies for FREE shipping

---

KidScents Little Oilers Premium Starter Bundle $135

Includes 5 KidScents prediluted oils plus Feather the Owl diffuser

Qualifies for FREE shipping

---

Premium Starter Bundle with NingXia Red $135

NingXia Red 2-pack, 30 NingXia Red Singles, NingXia Nitro

Qualifies for FREE shipping

---

Premium Starter Bundle with Thieves $125

Includes Thieves 15 ml, Thieves AromaBright Toothpaste, Thieves Fresh Essence Plus Mouthwash, 2 Thieves Household Cleaners, 2 Thieves Foaming Hand Soap, 2 Thieves Sprays, 2 Thieves Waterless Hand Purifiers

Qualifies for FREE shipping

---




Welcome Home Starter Bundle $125

Includes four 5 ml and four 15 ml bottles of essential oils perfect for your home plus a wooden Vitality oil rack

Qualifies for FREE shipping

---




Basic Starter Bundle $35

Includes Stress Away 5 ml, AromaGlide Roller Fitment, 10 Thieves Waterless Hand Purifier Sachets, Thieves Mints, 2 NingXia Red 2-oz. Samples

Qualifies for FREE shipping when an additional 100 PV is added

---



BEST
Grab a Premium Starter Bundle AND say YES to Essential Rewards right away - Young Living's customizable subscription box program! You will earn spendable points on your starter kit, get FREE shipping on your order, and be THAT much closer to earning your first loyalty gift with Young Living!
Essential Reward Perks
Loyalty gifts (FREE oils)

Earn points that convert to product credit

Completely customizable from month to month

Access to exclusive discounted ER bundles

Qualifies you to receive $ for referring friends

FREE shipping on orders of 100 PV or more

Get bonus freebies depending on your monthly order total

---



Why Enroll with me?
I have been using Young Living products for over EIGHT years, I have done the research and continue to learn and grow every day. I live the YL lifestyle, everyday and I am passionate about providing education and support to everyone who joins my team.
I take my Young Living business very seriously and believe in education, support & community! When You enroll with me, You can expect:
A welcome package sent to you with a thank you gift and resources to get you started right.

An email series walking you through beginning your Young Living journey.

Access to our member only Facebook group with continued education, support and a community of like minded people.

Ongoing education, training and support.

Fun virtual and in person events. We love getting together for fun DIY's, holiday gatherings and more! (Hopefully soon!)
You will also have the option (if you choose) for:
One on one consult to create your personalized wellness plan.

Business training & coaching.

Receiving snail mail surprise packages from me. I call this Happy mail!

Host workshops with your friend and family (presented by me) for FUN Hostess gifts while sharing YOUR love of Young Living with those you care about most.
I was introduced to Young Living in a Metaphysical shop. I was looking for a more natural way to support my emotional health. I ordered the Premium starter kit with oils and IT WORKED. So I began exploring the various lines of Young Living, detoxing my home with Thieves, supplementing my families wellness with Ningxia and oil infused supplements, got SAVVY with the YL make up line and so much more.
I recently shared my YL story in a group of 25 women I was part of, not sure if you are interested or not but if you want, you can check it out HERE
I would be honored to be your person and walk this path to a Young Living lifestyle of wellness, purpose and abundance with you.
Are you ready? Let me help you get the products YOU need at the best price.
Let's get you started! Which one are you leaning towards - GOOD, BETTER, or BEST?