Dec 1, 2020 06:45 PM Central
Beth Aust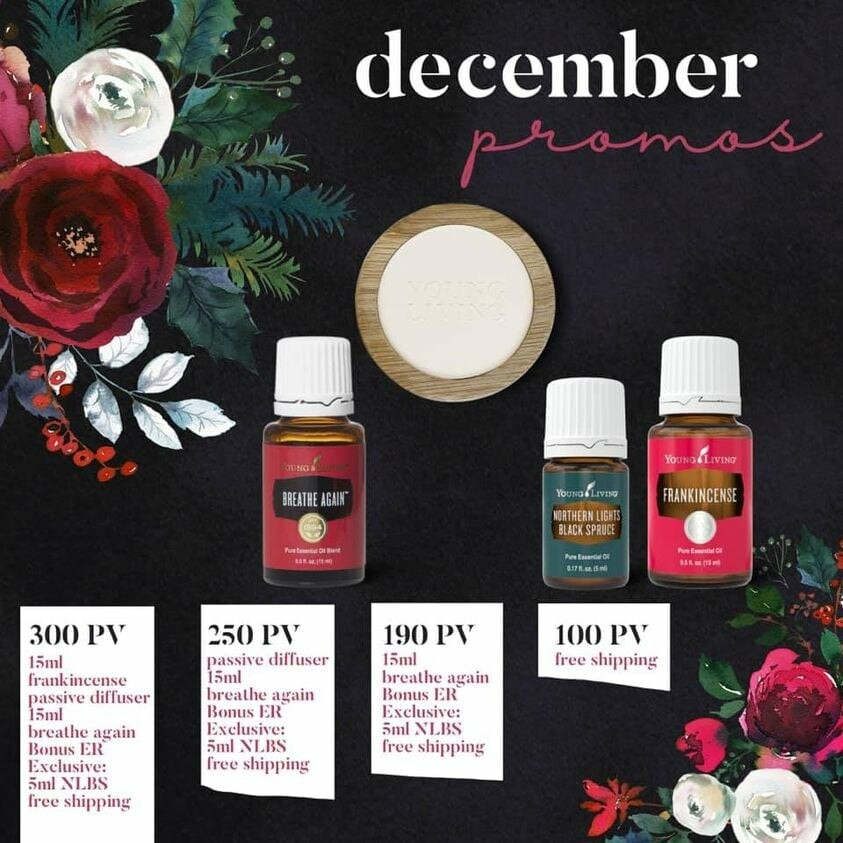 OUTSTANDING!!! We're getting FREE FRANKINCENSE in December's PV Promos once again!
Young Living came through for us!!! They are truly delivering a December to remember with the enchanting oils of FRANKINCENSE and NORTHERN LIGHTS BLACK SPRUCE (NLBS) as well as the oil blend whose name says it all -- BREATHE AGAIN! In a 15 ml bottle! All this and a cute YL branded "diffuser." It goes anywhere! You drop oils on this ceramic stone and bamboo wood circle, and BAM! You have
a diffuser. What a terrific month this will be!!!

Here's the breakdown --
300 PV: (Retail value: $210.59)
*FRANKINCENSE 15 ml
*Mini Passive Travel Diffuser
*Breathe Again, 15 ml
Bonus Essential Rewards:
*Northern Lights Black Spruce, 5 ml

250 PV: (Retail value: $107.30)
*Mini Passive Travel Diffuser
*Breathe Again, 15 ml
*Bonus Essential Rewards:
*Northern Lights Black Spruce, 5 ml

190 PV: (Retail value: $77.30)
*Breathe Again, 15 ml
*Bonus Essential Rewards:
*Northern Lights Black Spruce, 5 ml

Of course, there is FREE SHIPPING on all orders over 100 PV, and remember -- you can get these Promos TWICE -- once with an Essential Rewards order and once with a Shop order!

Research these oils and learn WHY they are so valuable! Frankincense has been used around the world for many centuries to help with physical/spiritual/emotional issues. I would guess that there is more information written about Frankincense than any other oil -- or perhaps Lavender may surpass it. It was revered by royalty and medicine men of old. Study the history and find out why!

Ten or more years ago, we were missing Black Spruce oil needed for many of our blends. Gary happened to fly over a tree farm in British Columbia and he was told it was a black spruce farm. He went there, bought it, and carved a farm and distillery out of basically a huge bunch of trees. Gary and Ben Howden and others worked tirelessly, sometimes at 30 degrees below zero, to make that into a real farm and distillery. It was a huge undertaking and that's where we get our outstanding Northern Lights Black Spruce (NLBS) oil! with the Aurora Borealis watching over!

BREATHE AGAIN is an oil blend that your lungs will LOVE! This 15 ml bottle will allow you to be a little more generous with it -- and you can diffuse it. Breathe Again generally comes in a roll-on and that makes diffusing difficult! Make this holiday season a very pleasant one because you will be breathing deeply!
Check out this video about this months amazing promotions:

Enjoy these precious oils and always remember to be grateful for the knowledge and the products we have at our fingertips!!
---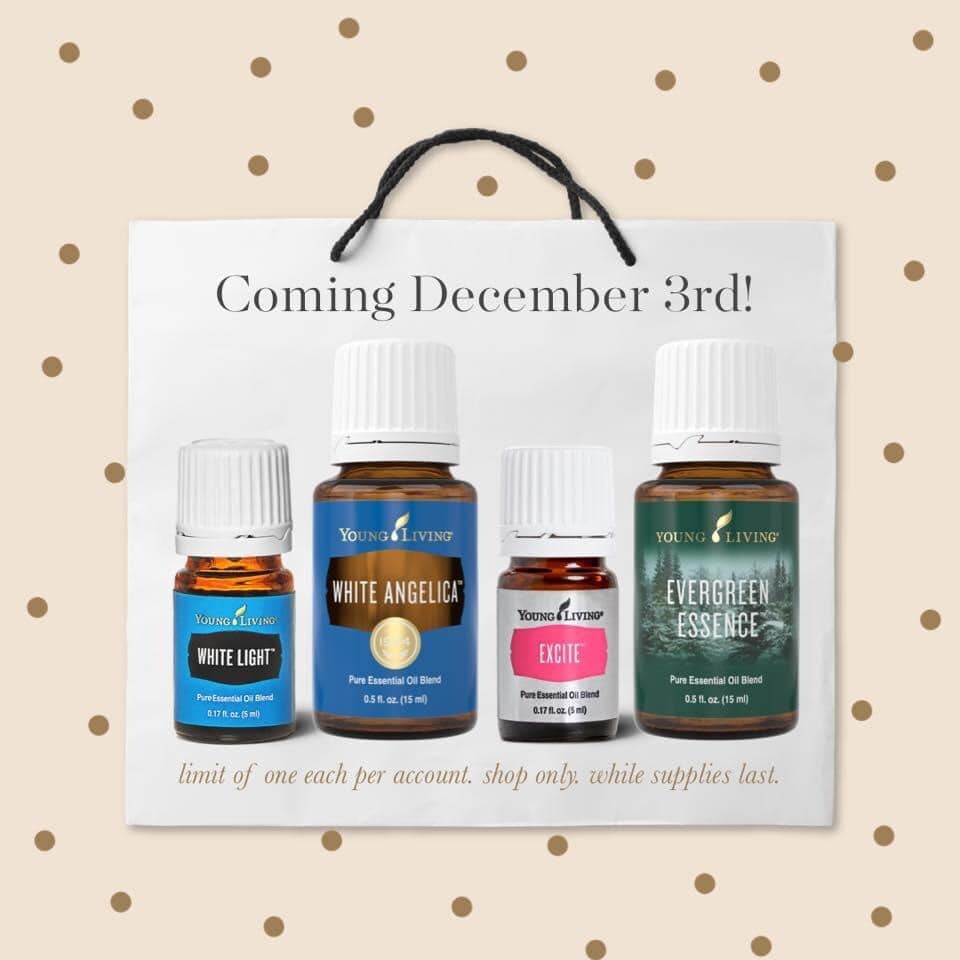 Look what's coming on December 3rd!!!
LIMITED TIME ONLY
Glow all out for the holidays with Savvy Minerals' latest release, the Golden Hour eyeshadow palette! Order this exclusive eye quad through your Virtual Office starting Thursday, December 3, just in time to add some magic to your party makeup or glam up your gift-giving.*
As you wrap up 2020, you'll sparkle and shine with the Golden Hour palette, featuring four toasty new shades—Dawn, Horizon, Glow, and Dusk—that look radiant on all skin tones. From dramatically bold to beautifully natural, this custom-balanced colorway has both matte and shimmer shades that you can mix and match for any occasion.
Check out our Young Living Training and Education page on Thursday, December 3 at 9 a.m., MT, for a Facebook Live featuring the glamorous new Golden Hour. Learn tips and tricks for creating stunning holiday looks!
AND....
Make December 3 twice as nice with the wintry aromas of White Light (5 ml), Excite (5 ml), Evergreen Essence (15 ml), and White Angelica (exclusive 15 ml), available until December 31 while supplies last. Limit one each per account.
*Available for a limited time shop only, while supplies last. Delivery dates not guaranteed.
What are you planning on getting?