Dec 6, 2020 04:09 AM Central
Beth Aust
For all those Young ESSENTIAL OIL Lovers that want to build an oil collection -I have some great tips & suggestions for you to build an amazing collection without breaking the bank!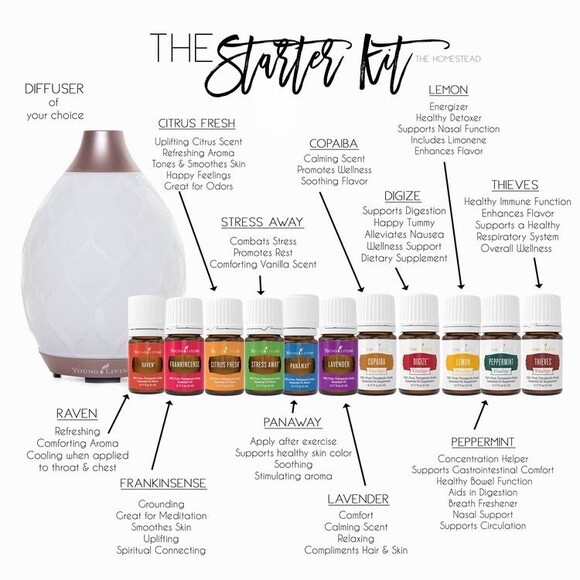 We are going to talk about the different options You can do to build your oils collection BUT I feel it is important that You have ALL the important details before you make your decision about Essential Rewards, lets get to it!!!
Here are a few tips when building your collection:
All of the Vitality Oils come in 5 ml bottles and are little less expensive then some of their counterparts. If an oil comes in a VITALITY (white label) and REGULAR (Solid colored bottle)...it is the same oil in each bottle. They are labeled differently so consumers know how to use them. If an oil does not come in a VITALITY version and only a SOLID Colored bottle-it should only be used topically and or aromatically. BUT if it is a VITALITY-you could choose to use it internally or topically. Make sense? Learn about COOKING WITH OILS
When looking to see ALL the oils YL offers-you can see the FULL list in the Virtual office (Log into to Young Livings website with your member ID# and Your password) then go to which order platform you are using (For the LOVE of all things oily & your checkbook-choose ESSENTIAL REWARDS), searching Products under your ESSENTIAL REWARD (monthly order) order or SHOP (one time) Order--> Essential Oil Products-->(6 categories) EO singles, EO blends, Dietary EO, Roll-ons, Massage Oils, Collections. If you are READY, WILLING & ABLE to invest more than $50, I suggest looking at the COLLECTIONS as you will get the best bang for your buck and build your collection faster. (But I have a tip for you on getting the collections for FREE, keep reading!!
YL Collections available on ER: Active & Fit kit, Every day oils collection, Feelings kit, Golden Touch 1 kit, Oils of Ancient scripture, Raindrop collection, Select 30, Vitality Culinary kit, D. Gary Young Commemorative collection, essence of the season....This list changes....with promos, etc. AND there are other collections available ONLY with a SHOP (One time order).
There is a HUGE collection called the Premiere Aroma Collection which you receive 120 essential oils in a brown vegan leather backpack (that holds 140 oils). It is the BOMB DIGGITY (So I hear) but NOT everyone can drop 2 K all at once, hence this blog post-keeping building a YL Oil Collection on a budget-and I have a TIP o how you could potentially get this for FREE.....Stay tuned.
Learn More about the ESSENTIAL REWARDS PROGRAM
Utilize essential rewards to build your collection is the BEST Option, Here is why;
The regularity-I can't tell you how many times I have ran out of milk, the beloved TP or a supplement that my family needs. Ordering monthly REMINDS us to order the needed items we need and or build your essential oil collection.
The customization-I can order whatever I want, change my oils or products, change the date it processes-FULL CONTROL over MY order.
The Rewards-I LOVE the reward programs that give me FREE stuff and YL sends reward gifts at 3 months, 6 months, 9 months and then yearly.
The Points-In addition to the free oils, I earn back a percentage of my order every month. The first 3 months is 10% back, then it's 20% for months 4 through 24, and then it's 25% back there on out. Those points can be redeemed on a SHOP (one time order).
Minimal Order is 50 PV (Hence this blog) and FREE SHIPPING over any 100 PV Order.
Access to ER Kits: Essential Reward members have the opportunity to purchase ER kits (items YL has put together at a lower cost) such as the Thieves ER or NingXia Red ER kits (Only available to ER members)
You can enroll in ER by clicking the ER tab on your YL Virtual office-I can guide you if you need help.
You can Cancel ER at any time BUT this does require a phone call to Young Living to cancel (this can not be done on line). BUT wait there is MORE-if you do choose to cancel for whatever reason-USE ANY REWARD POINTS YOU HAVE FIRST, If you don't use them and cancel-you LOOSE THEM.
All about Essential Rewards HERE.
PV is a point value assigned to each product YL sells. MOST of the oils and products are 1 PV = $1 BUT not ALL of them. You can see the Retail price, Wholesale Price and PV next to each item either on Your Virtual office, on the
VIRTUAL PRODUCT CATALOG
or the Product Guide. You will need to order a minimum of 50 PV on your monthly essential reward order. So it is important to not just look at your PRICE total but your PV total.
PV is important when you are ordering:
50 PV needed for your monthly ER order.
If you are not on ER-you will need to place a 50 PV order once per year to maintain your wholesale membership.
On ER, you EARN PV points that you can then use to get FREE products (That have an equal PV to $ amount) with a SHOP order (not your ER Order). THESE POINTS ADD UP. See below on how to use them.
You can get FREE Shipping on ALL orders (ER or SHOP) that are 100 PV or higher. Choose economy shipping.
You can get certain FREE MONTHLY PROMO products that YL offers at certain price points that change each month.
R
edeeming Points with a SHOP order-What you NEED to know:
You may redeem your points online at checkout by selecting "Apply Points" or by contacting Member Services at 1.800.371.3515.
You may redeem up to 350 points each month.
If you choose to cancel your enrollment in the Essential Rewards program, you forfeit all of your unused Essential Rewards points. You must contact Member Services to cancel enrollment. Your monthly participation in the program, if resumed, will accumulate points again at the 10 percent level.
When redeeming Essential Rewards points, use the PV amount rather than the dollar value. For example, if you have 50 points, you may redeem them for any product with a PV value up to 50. Points may only be redeemed for products with full PV values. Not all products are eligible, and items purchased with Essential Rewards points are not returnable.
Unused points expire on a 12-month rolling basis, meaning they expire 12 months from when they were earned
What products can you order with your Points?
Under Shop order-add items to your cart that have the PURPLE FLAG next to them (Now this may change) . See that purple flag-that means you can purchase that item with POINTS-SO if you want collection of oils-you can start with your 50 or 100 PV essential rewards order (remember 100 PV gets you FREE shipping AND the more you spend, the more you earn AND the longer you are on ER the more points you earn up to 25%
of Your ER order back each month).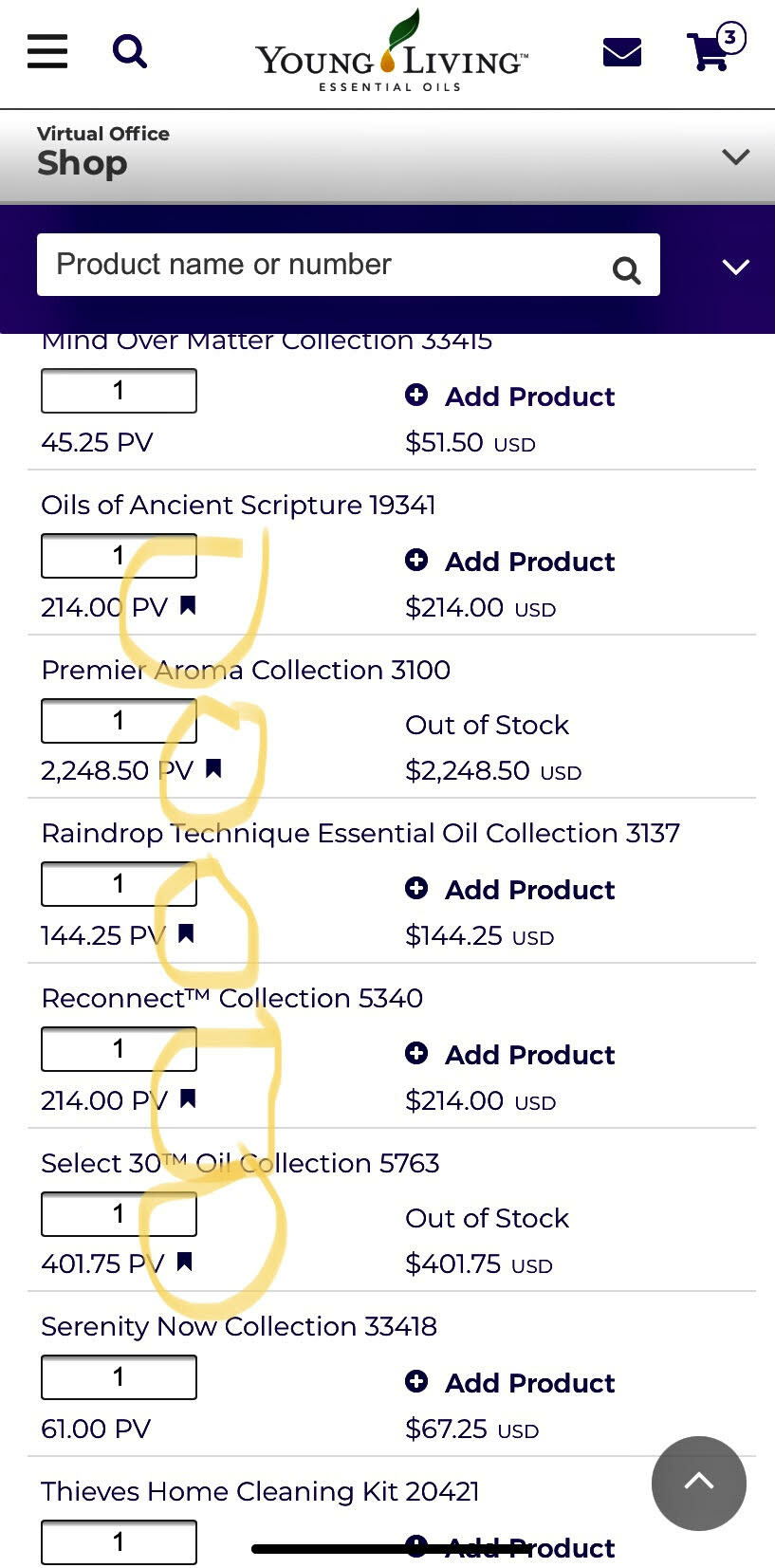 There are a TON of different oils, products and COLLECTIONS you can get FREE with your REWARD POINTS. Scroll back up to the section I wrote YL Collections available on ER- The collections available to get with points (currently) I BOLDED & UNDERLINED It is a pretty nice list!
SO, YOU could save your points for one of the COLLECTIONS you can get for FREE with your REWARD POINTS YOU HAVE EARNED
(there is no right or wrong way-AND remember you can get what you want, just showing you some of the OPTIONS) .
Now, you may want a collection that is over the 350 max point redemption mark per month-in that case you CALL Young Living and they will HELP you. AND if You want to save your points for the AROMA COLLECTION call YL Customer service and they will guide you through the process.
---
Ready to Build Your Essential Oil Collection?
Want to meet 100 PV level for FREE shipping, you know YL is more than just essential oils, check out some Lifestyle options AND an option where I can help you, create your own custom wellness plan
HERE
Questions?
Beth