Dec 6, 2020 04:02 AM Central
Beth Aust
Most people do not realize the potential negative impact of the products they use on a daily basis from cleaning products sprayed around the house to personal care products used on the body. About eight years ago I began swapping out store bought to DIY versions for my families health and the safety of the environment and to save money. I then started switching out my personal care products as well. In making the switch to products using high quality, natural ingredients, I realized better products are more expensive. SO as a budget savvy momma and using natural products from Young Living that are already concentrated, I learned some hacks a long the way to make my products last longer that don't break the bank-matter of fact-they SAVE me A LOT of money.
Today I will share 3 of my favorite daily use YL products, why they are my favorite and how I stretch my budget using some simple hacks anyone can do.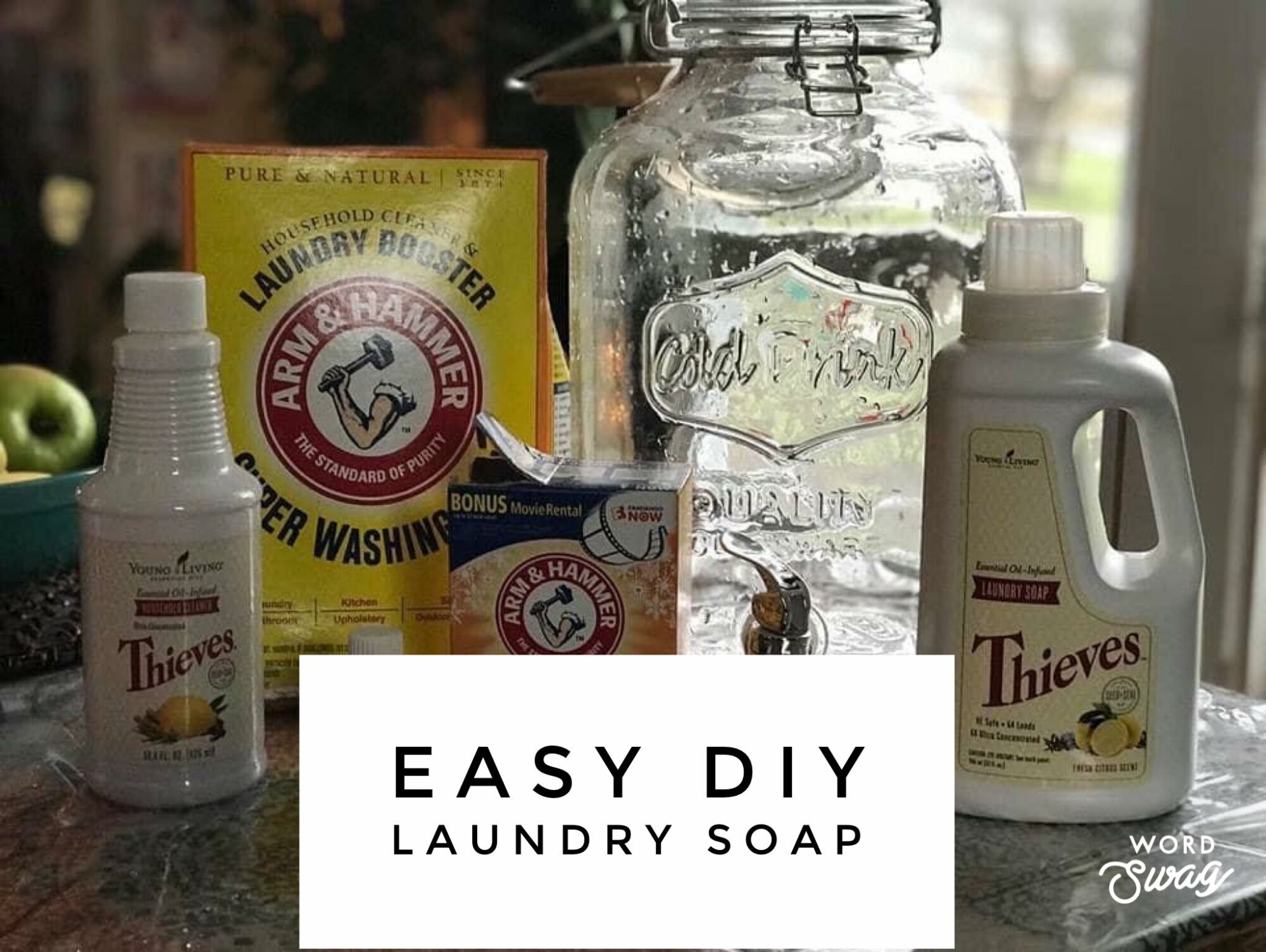 With a plant-based formula, Thieves laundry soap gently and naturally washes your clothes, leaving them truly clean without any chemical or synthetic residue. Natural enzymes and powerful essential oils like Thieves, Jade Lemon, and Bergamot, add to the formula's strength, leaving your clothes fresh and clean with a light citrus scent. The plant-based formula can even be safely poured directly onto clothes!
Thieves laundry soap can be used in all washers, including high efficiency and its highly concentrated formula will handle approximately 64 loads with just 32 fl oz.
Thieves Laundry Soap is formulated without:
• SLS
• Dyes
• Petrochemicals
• Formaldehyde
• Phosphates
• Synthetic perfumes
• Optical brighteners- many detergents use optical brighteners to make clothes appear brighter, which has nothing to do with actually cleaning the clothes? The clothes only appear whiter and brighter because these additives reflect blue light, giving the illusion that your clothes are less yellow. These optical brighteners remain in your clothes and are rub against the skin when worn. Instead, to keep whites at their whitest, launder in hot water and hang them dry in the sun for natural bleaching!
How to use:
• Use 1⁄2 cap for conventional washers
• Use 1⁄4 cap for high-efficiency washers
• Use more as needed for large or heavily soiled loads
********************OR*********************
YOU can do what I did and stretch this ultra concentration formula!
As promised here is a tip to help stretch your laundry soap while creating a peace of mind knowing you are using plant based product instead of one filled with toxins.
Today I made 2 gallons of laundry soap using only 1/2 cup of thieves laundry soap
Just think about how long one bottle of thieves laundry soap could last you!!
In a 2 gallon glass container(or cut this recipe in half and use a one gallon container):
1/2 cup baking soda
1/2 cup washing soda
1/2 cup thieves laundry soap
1/4 cup thieves household cleaner
8 drops thieves essential oil
8 drops lemon essential oil
Add hot water to finish filling the container, stir and BOOM.
Now, I still only use 1\4 to 1/2 cup per load. So that means (using 1/2 cup per load) 2 gallons is enough for 64 loads...And I can do that SEVEN more times with the rest of my laundry soap.....
How long would 2 gallons of laundry soap last you??
32 ounces of Thieves laundry soap is item #5349 wholesale cost is $30.75 (PV is 30.75) and follow the directions of use and wash 64 loads of laundry..
Or take advantage of the ultra concentrated formula and....
Make eight 2 gallon containers of laundry soap...and wash over 500 loads of laundry...
Update: that 2 gallon container lasted my family of 7 one month-that means one bottle of thieves laundry soap is enough to wash our clothes for 8 months-leaving me plenty of room on your essential reward order for other products.
How's that to stretch your oils AND budget????
---
If you haven't used
Thieves Dish Soap
do yourself and your family a favor and try it! Thieves Dish Soap will effectively clean your dishes without harsh chemicals, dyes, or synthetics. Jade Lemon and Bergamot essential oils and Thieves essential oil blend complete the formula with their naturally occurring constituents.
Thieves Dish Soap contains:
• Surfactants: These are derived from natural sources such as glucose, palm trees, and coconuts. Surfactants are needed for different reasons: (1) They act as cleansing and foaming agents, and (2) they act as stabilizers to make sure you don't get an overload of bubbles as you wash your dishes! Because they are naturally derived, our surfactants are biodegradable and non-irritating to your skin. Our formula pairs the surfactants with natural salts, because these two ingredients work synergistically to boost cleaning properties!
• Minerals (sodium sesquicarbonate): This naturally derived ingredient balances the pH in the formula, which means that no preservatives are needed! The minerals are extracted from trona ore, a mineral that is found near the Green River area.
• Jade Lemon essential oil: Jade Lemon has a unique lemon-lime scent that is pleasing and uplifting. Its wonderful, zesty fragrance is clean and inviting.
• Bergamot essential oil: Bergamot's aroma is tart yet sweet and uplifting yet relaxing, making it a popular oil in perfumes, cosmetics, and lotions. In addition to its scent, Bergamot has attracted attention for its cleansing properties, and it's often used as a luxurious ingredient in shampoos, soaps, and cleansers.
• Thieves essential oil blend: Thieves is a powerful combination of Clove, Lemon, Cinnamon, Eucalyptus Radiata, and Rosemary essential oils for an aromatic blend that fills any space with a rich, spicy aroma. It includes the naturally occurring constituents trans-cinnamaldehyde, limonene, and eucalyptol. It's known for its cleansing properties, and it neutralizes and purifies odors.
We love using our Thieves Dish Soap because we know with certainty that it boasts clean, plant-based ingredients safe for the whole family AND as a Momma on a budget I have a hack for this too! I take one bottle and turn it into 3 bottles. First empty 2/3 of your thieves dish soap into another container like a mason jar, then add 1 tablespoon of baking soda (into the bottle that has 1/3 left) add water and BOOM.
Check out this video to see how easy this is....
---
Thieves Household Cleaner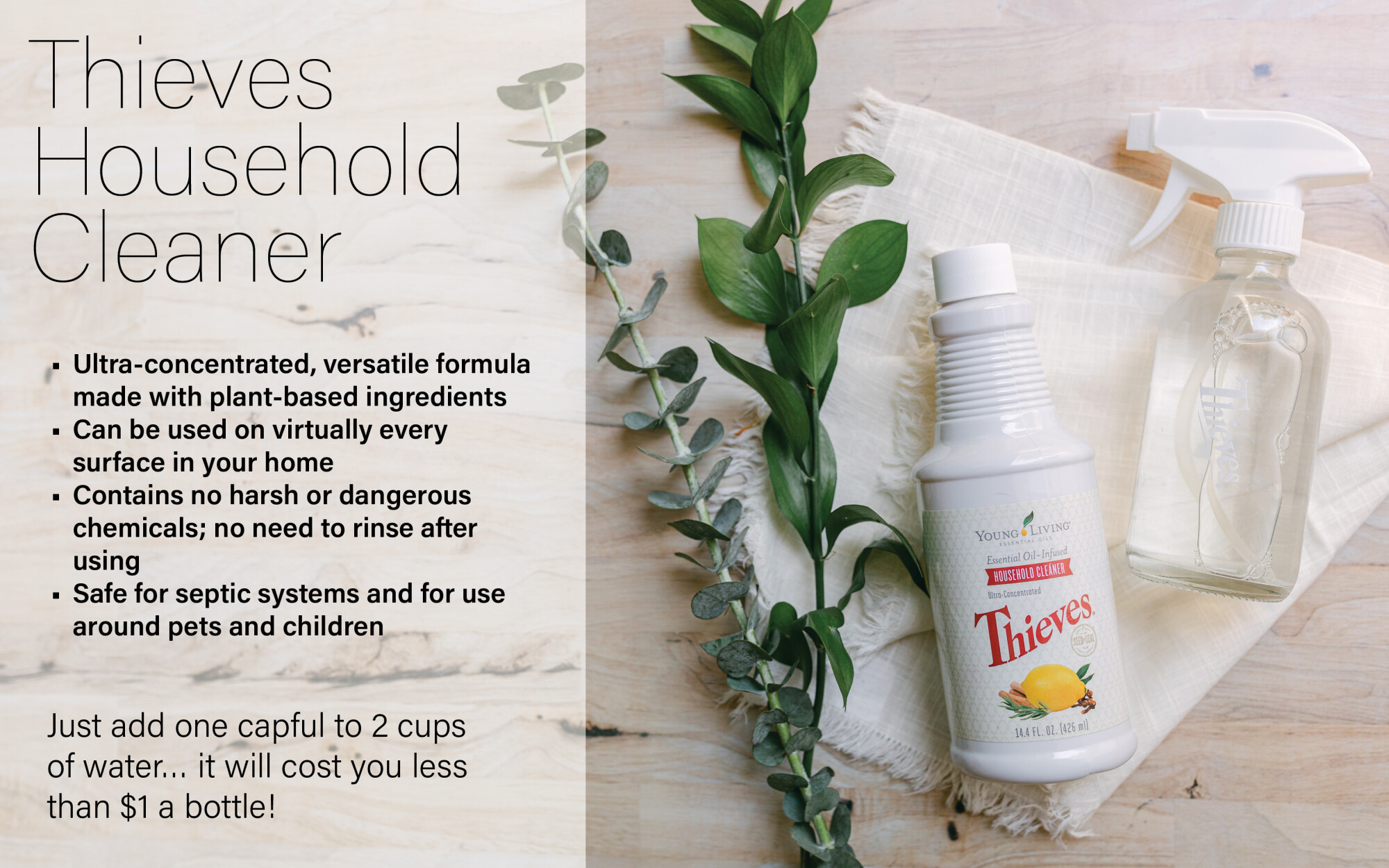 Create a welcoming home that is safe for everyone with this all purpose cleaner.
Thieves household cleaner
is another concentrated plant based product YL offers and this ultraconcentrated cleaner cleaner ALL THE THINGS and all you need is add one capful to a 16 ounce bottle, add water. The result? YOU can get
28 bottles
of household cleaner for
$ 0.83 EACH.
---
Learn more about the Thieves line
HERE
Have questions? Let me know!
Beth