Jan 17, 2021 07:11 PM Central
Beth Aust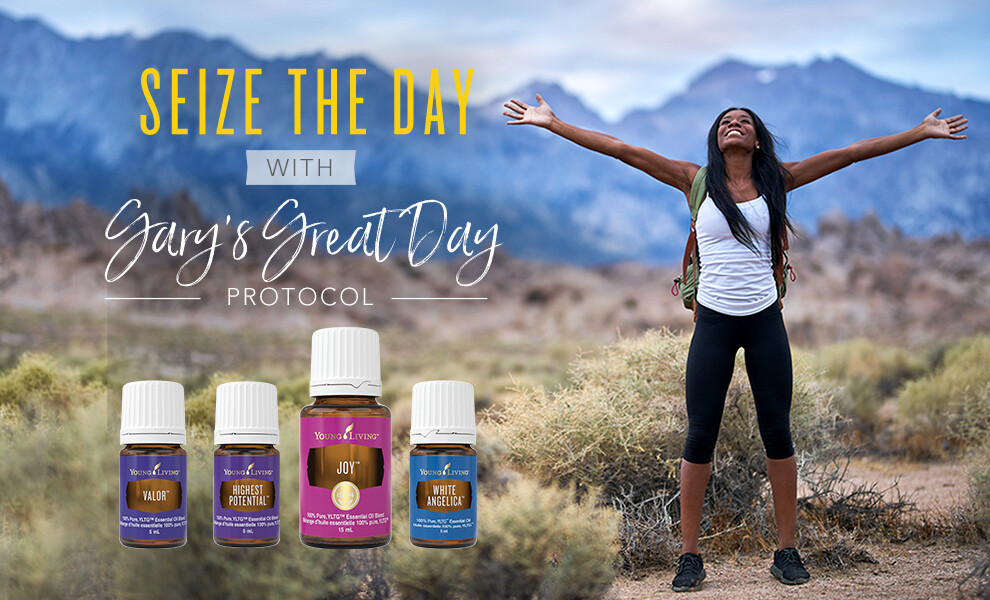 Incorporating essential oils into your morning routine can amplify your intentions and enhance your feelings of confidence so you can start your day from a place of strength. Layering and blending specific oils in distinct ways can help cultivate the right mindset to manifest your goals.
That is why Young Living founder, D. Gary Young, put together an empowering essential oil routine, called Gary's Great Day Protocol. Known for his vision and belief in pursuing that vision despite obstacles, there was never a goal too large or impossible for Gary to achieve.
Through daily rituals and time spent nurturing the inner self, this cultivates the resilience and optimism we need to achieve our biggest dreams and seize the day!
How you start your morning has a huge impact on the remainder of your day. It can even be a very good indication of how you will end your day. If you wake up with your mind already racing, frantically rushing around trying to get things done for yourself and everyone else with your nerves on edge, you are setting yourself up for a day that will be much the same.
The Great Day Protocol uses four specific oils to support our emotions, promote feelings of harmony and joy, and guard against negative energies that disturb our thoughts and send our emotions into a tailspin. You can also use these oils to combat occasional sadness.
Those who have made the Great Day Protocol a daily ritual have shared that they've noticed some of the following things:

• More attention to details
• Communication has become more solution-oriented with others
• Increased enthusiasm
• More follow-through with projects
• Increased positivity
• More open outlook
• Better ability to handle stressful situations
• Calmer demeanor
Great Day Protocol
Step 1:
Balance the body with
Valor
(Black Spruce, Blue tansy, Frankincense, Camphor wood, Geranium, Coconut oil).
*If you do not have Valor, you could use: Sacred Mountain or Northern Lights Black Spruce.
The powerful combination of ingredients in Valor delivers strengthening and refreshing qualities, supporting feelings of courage and self-esteem.
Place a drop in the palm of your left hand, gently rub your palms together, and bring your oiled palms to your nose and inhale.
Set your intention for the day, utilizing the grounding properties of this blend.
Then, place another drop on the inside of your wrists and hold your wrist together for a moment. Focus your mind on balancing. As you hold the pulse points of your wrists together, again breathe in the oil blend and take a moment to be still while affirming your intentions for the day.
Some sample affirmations:
I am ready to transform my life.
I choose to have the courage to make changes in my life.
It is safe for me to change.
I am safe.
Step 2:
Calm your mind and promote positive feelings with
Harmony
(Geranium, Angelica, Bergamot, Lavender, Black Spruce, Ylang Ylang, Sacred Sandalwood, Hyssop, Palmarosa, Spanish Sage, Rose, Frankincense, Jasmine, Lemon, Orange, Roman Chamomile, Coriander)
* If you do not have Harmony-try Highest Potential, Inner Child or Ylang Ylang.
This spiritual and emotional blend is balancing and calming, and may help reduce occasional everyday stress and discord, by creating harmonic balance in the mind, spirit and body.

• Place a drop on your left palm, rub your palms together, inhaling the oil blend
• Place a few drops on your solar plexus, just below your sternum, and above your belly button. This is your third chakra, or your "will" energy center.

As you inhale the aroma, you could use the affirmations such as:
I allow my will to harmonize and align to the greater good for all I connect with today.
I trust the process of life.
All my relationships are harmonious.
I feel a great sense of happiness, security and wellbeing.
Step 3:
Bring feelings of happiness to your mind and body with
Joy
(Bergamot, lemon, Palmarosa, Ylang Ylang, Rose, Geranium, Jasmine, Roman Chamomile, Coriander, Tangerine).
*Alternatives to Joy may be Jasmine, Rose, or Citrus Fresh.
This blend brings a sense of bliss and warmth, creating a happy and joyful experience, when worn as a perfume-it invites togetherness and promotes a positive outlook.

• Place a drop into your left palm, rub your hands together, and slowly inhale the scent.
• Then place your hands on your heart. If you are looking to become more open hearted, use these moments to let this blend infuse into your heart's desire.
Possible affirmations:
My heart is open and full to give and receive love.
I am joyful in my heart and mind.
Joy floes through me.
My life is filled with joy.
Step 4:
Protect your energies with
White Angelica
(Bergamot, Melissa, Geranium, Ylang Ylang, Rose, Myrrh, Sacred Sandalwood, Hyssop, Coriander, Black Spruce, Sweet Almond Oil)
* Substitutes for White Angelica may be Frankincense, Sandalwood or 3 wise men.

White Angelica is known for its properties for energetic protection, like a bouncer for negative energy or disturbing thoughts.

• Place a drop in your left palm, rub your palms together and deeply inhale.
• Then, gently brush your palms over the crown of your head, down your neck, shoulders, chest, torso, and all the way down your legs to your feet. Imagine this blend encasing your entire body, like a guardian shield.

Again, revisit your intention for your day or you could affirm:
I am protected.
I am safe.
All is well in my world.
I encourage you to try Gary's Great Day Protocol for a week and keep a log of how you are feeling and what you notice each day. AND it is so much better with your significant other, friend or family member to take the challenge with you!
Obstacles and challenges are inevitable as you go after your dreams, but it's important to remember that you have the power to make huge changes in your life. And those changes all begin with creating an uplifting morning routine to start each day with positivity!