Jan 28, 2021 11:04 AM Central
Beth Aust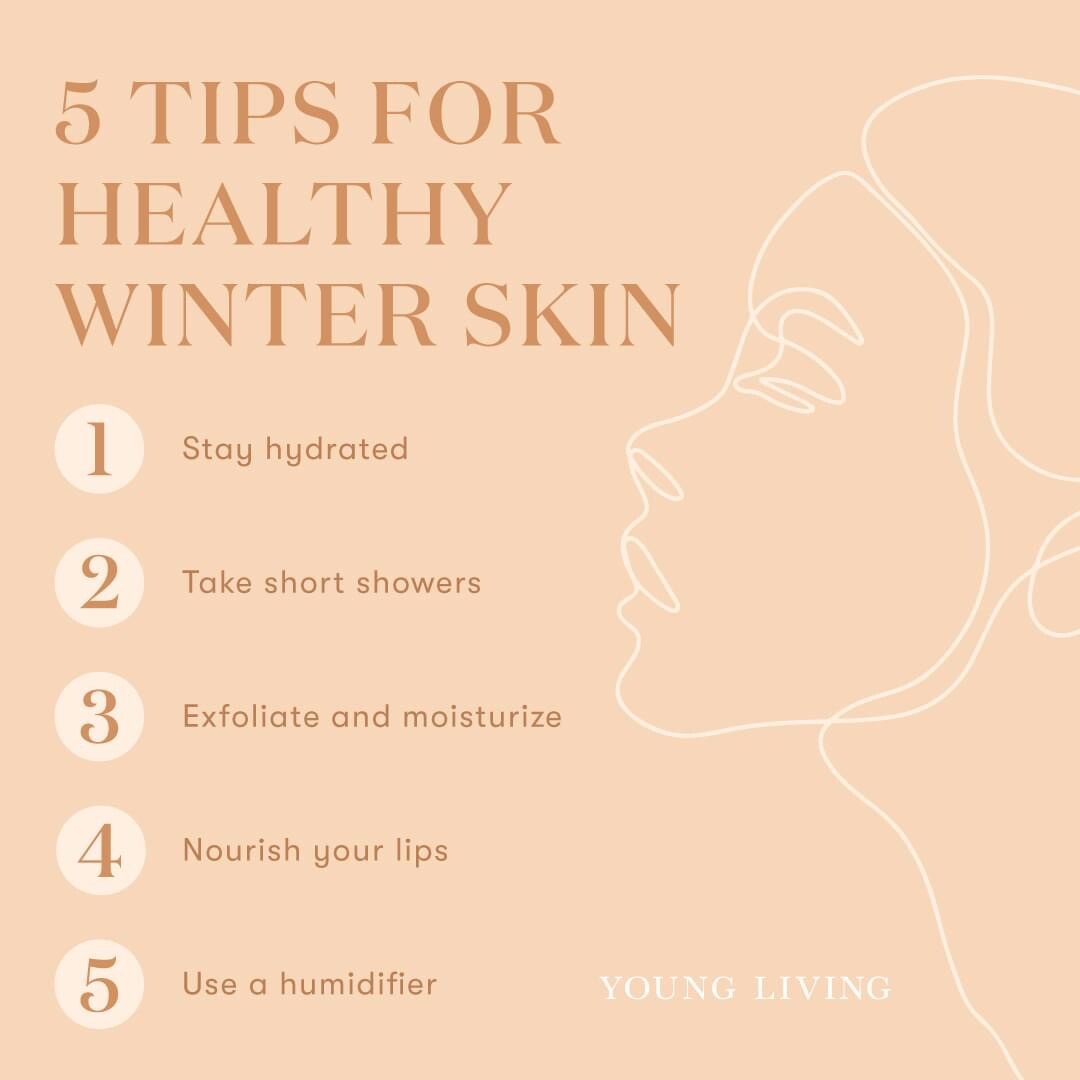 Give you skin some love this winter!

Cold, dry air and lower temperatures means less moisture for your skin. Keep your skin looking and feeling healthy with these 5 tips.
Is your skin pink and appear irritated? Your skin could be dehydrated. CBD Beauty boat can be used alone or added to your favorite moisturizer and can help your skin stay hydrated, radiant and healthy.

Among the many benefits of drinking water is that it may help your skin's elasticity. Try adding a few extra ounces throughout the day to help you reach your goal. For an extra boost of flavor without the added sugar, enhance your water with YL Vitality Drops! #electrolytes We have several but check this ones out HERE

2
. Take short showers
.
While it may be tempting to take a long, hot shower in the winter, skin can become dry and even irritated. To prevent natural oils from being stripped from your skin, stick to lukewarm or cold temperatures and limit the time. Don't fret. You can still make your shower feel like the spa with the time that you have! Add a few drops of Eucalyptus or Raven™ essential oils for a refreshing experience.

3.
Exfoliate and moisturize.
These are key to keeping your skin healthy, all year round! Exfoliating two to three times a week helps cell turnover and circulation while moisturizing targets dryness by locking in hydration. I love using the satin mint facial rub and they key is when exfoliating is to apply consistent motion not pressure.
Like the rest of your skin, lips are prone to the harsh winter conditions. We've got you covered! Prevent skin dehydration using a lip balm infused with moisturizing ingredients and essential oils. Young Living offers scents like grapefruit and Cinnamint to name a few!
Looking for a little more luxury? Look no further. Savvy Lip Luxe is a rich, luxurious lip gloss and treatment formulated with an exclusive blend of 19 oils. Wear alone, layer it on top of your favorite lipstick, or apply it right before you go to bed to enjoy rich moisture and antioxidants.
In winter months, humidity tends to be low when it comes to both outdoor and indoor air. How does this affect your skin? Low levels of humidity can reduce the skin's ability to serve as a barrier as moisture is drawn out. Did you know? Young Living's Dew Drop and Feather the Owl diffusers function as humidifiers!

Which tip will you be trying this winter?