Feb 11, 2021 11:37 AM Central
Beth Aust
First, a brief understanding the New Moon...
The moon controls the tides of the oceans
and influences the responses (and minds) of
living
creatures.
Astrologically, depending on your zodiac sign and moon phase during
your birth-the moon forms a certain
concept of how you interact with others.
The
NEW MOON
sways our mind & emotions and which translates to our behavior and
is
the beginning of a
27 day
cycle of fast moving lunar energy. The new moon is magnetic
and will draw out certain

internal (thoughts)
and external
(experiences) encounters.
---
Why Does the New Moon matter?


The New Moon presents us with an opportunity. This is the perfect time to set your goals or intentions for the month. YOU are responsible for your life AND you have the option to tapping into the New Moon energy to set the stage for the rest of this month. Choose to be mindful and seriously consider what you wish to manifest. Stay in the flow as INSTINCT takes center stage and trust the process of the mystery unfolding!



During this time, you will want to set your intention, focus and efforts. Be
MINDFUL
to stay positive and avoid negativity-I know what you are thinking but seriously take every effort to protect yourself the best you can. This is a time to rest, recharge and reset. When you take this time to slow down you will create a more clear vision and focus. You are planting a seed for the rest of the month.
---
Bonus Tips for creating a positive mindset to work with the new moon energy
Balance your energy levels.

Protect your boundaries.

Listen to your body.

Work on your root chakra.

Be patient.
---
How to use essential oils during the New Moon
During the new moon we want to create sustainable rejuvenation to plant seeds for that which we want to grow in our life. The new moon is all about positive change. Seed to seal essential oils are
AMAZING
tools to help you step into your power and are the perfect addition to your new moon ceremony.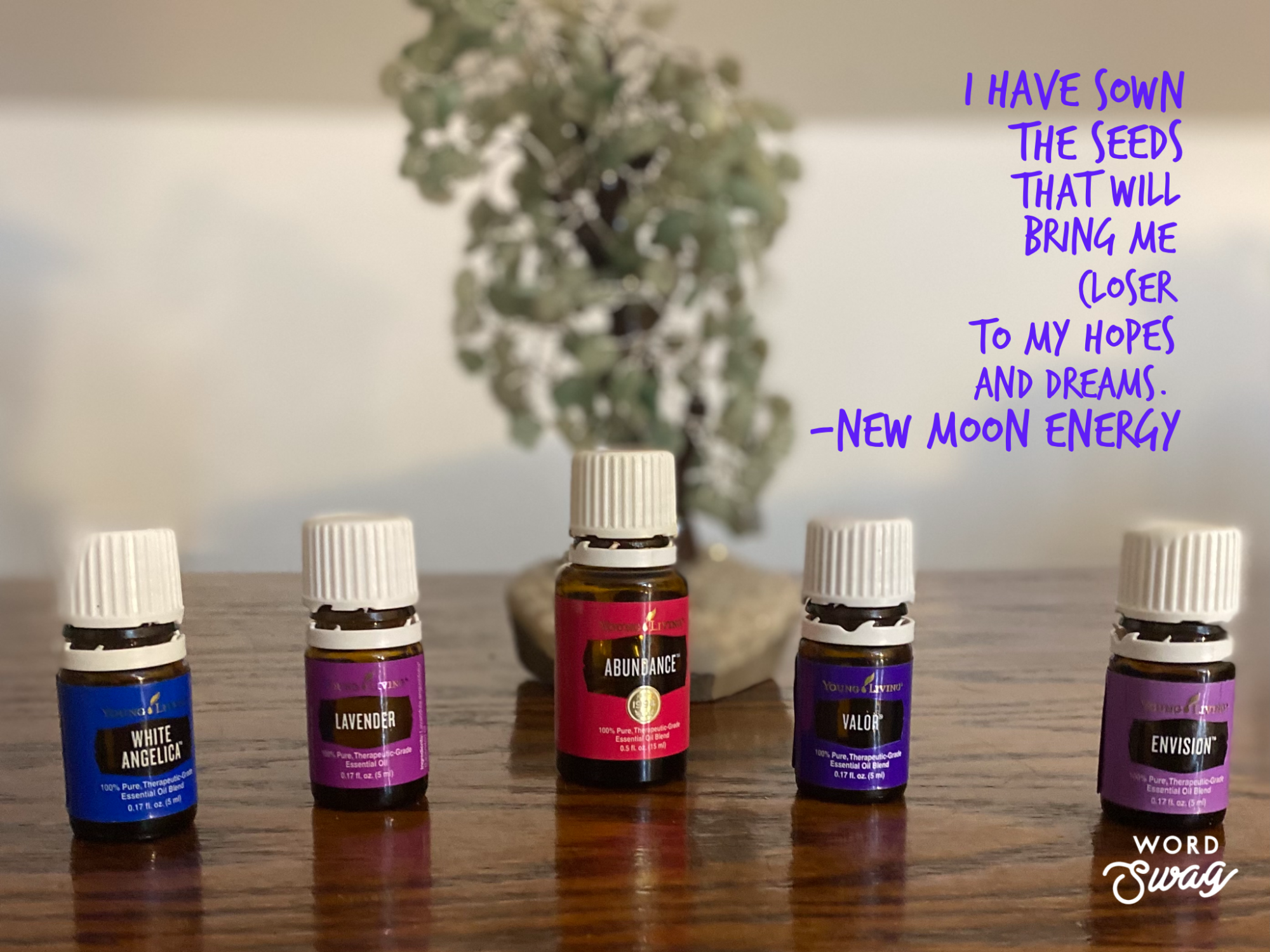 A few of my favorites to use during the New Moon
VALOR
essential oil is a blend of Black Spruce, Blue Tansy, Camphor wood, Geranium and Frankincense. It has a woodsy, grounding aroma that I love to use it for grounding and to balance my energies.
I drop 1-2 drops on my non-dominant palm and use my 1st two fingers of my dominant hand to rub the oil counterclockwise three times to "activate" the oil while stating my intention. (This is how I intentionally use my oils). I then put a drop on my wrists and hold my wrists together, deep breathing while balancing my energies.
LAVENDER
essential oil is referred to the oil of communication-perfect for our throat chakra to allows us to clearly speak our needs and desires. Diffusing lavender and/or applying topically (I like to apply on my neck/throat) and it creates an atmosphere conducive of allowing fears to be acknowledged and released so I can connect honestly with my emotions and thoughts I may have been resisting. Allow and release.
ENVISION
essential oil blend stimulates feelings of creativity and resourcefulness, encouraging renewed faith in the future and the strength I need to achieve my dreams. This is
PERFECT
to inspire creativity and vision when setting my goals or intentions for the month. I do the same process of "activating my oil" above, 'hand cup' over my mouth and nose and breath deeply while stating my intentions or goals OR for clarity of vision.
CLARY SAGE essential oil for times when I need a little more clarity to expand my vision. I like to diffuse this while I am meditating which creates an environment that allows me to change my perception and see what may be right in front of me. A perfect new moon oil as we become open to new ideas.
ABUNDANCE
essential oil is an uplifting, energizing blend that contains oils such as Myrrh, Patchouli, Orange, Clove, Cinnamon, Frankincense, Ginger and Spruce. Can you say
BOMB DIGGITY
of manifestation? I will diffuse this, wear it like a perfume or even on my diffuser jewelry cause its that powerful (I will even bathe in it). A great oil to use if you struggle with a scarcity mindset. You know Law of attraction, right? So when you smell this oil make sure you are projecting thoughts of prosperity. My favorite and the easiest way I use this is by activating the oil and rubbing on the bottoms of my feet stating the intention "I walk in abundance".
PS...if you choose to add essential oils to your bath-you will want to add the oils to Epsom salts first (I use a mason jar) and then add the salts to your bath-helps the oils disperse better.
WHITE ANGELICA
-Those of you who know me, know I never leave home without this powerhouse protector blend. With its calming scent and soothing benefits, it encourages feelings of protection and security. It combines oils used during ancient times to enhance the body's aura, which brings about a sense of strength and endurance. Many people use it as protection against negative energy. This one I will use at the end of my
Great Day Protocol
or Moon ceremony to close up energies as I carry on my day. I again, activate the oil and then as if I am doing self reiki, I rub my hands like an invisible shield from my head down to my feet affirming something like; I am safe, Divinely guided & protected, All is well in my world".
---
Learn More

Incorporating pure seed to seal essential oils is not only the perfect addition to your New Moon ritual but also in your daily life. Learn more about why I ONLY use Young Living essential oils and why YOU only want seed to seal oils
HERE.
Psstt...See something on this blog in
GREEN
? click on it to learn more:)
Every
Wednesday
my oily sisters and I teach all about life & oils (We call it Flip the Script) and I would love for you to join us! Learn more and register for:
FLIP THE SCRIPT
Order Now

Need the BEST essential oils on the planet? Let me help you. I would love to be your Young Living support gal.
ORDER HERE
---
What intentions do you have for this lunar cycle?

Peace, harmony & essential oils,
Beth