03/12/2020 09:00 AM Central
Beth Aust
As a nurse in an integrative medicine practice, OUR focus is ALWAYS teaching people to stay ABOVE the wellness line. What have we done differently in light of recent events? WE continue using thieves-diffusing it, cleaning with it and teaching preventative maintenance. We continue educating on the importance of nourishing your body with whole foods, water and supplementation, removing your home from toxins that cause more harm than good and replacing those with alternative, safer products.
Today, I want to share with you FIVE of my favorite products from Young Living's Thieves line that I use in my home and we use at the office on the DAILY because these are not only safe for our family and furbabies but for our environment too!
Thieves is the gateway for clean living and If there was ONE thing you did for you and your family-I say THIEVES all the way! I use thieves to clean my home, wash my clothes (yes there is laundry soap), clean my dishes (and my chicken coop) and my teeth, my hands, you name it-I use it!!!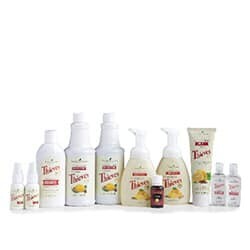 Let me introduce you to THIEVES as described on the Young Living website:
In France during the 15th century, thieves would sneak into graveyards to rob from the dead and dying. Legend says they protected themselves by creating a special aromatic combination composed of clove, rosemary, and other botanicals.
Today Thieves essential oil blend is inspired by those tales of old. Combining Clove, Cinnamon Bark, Lemon oil, Eucalyptus Radiata, and Rosemary essential oils, this blend is one of our most popular products. Use it with household cleaning products or diffuse it to freshen up a room. You can use in ANY of the forms-vitality for internal use, Thieves oil in the diffuser to freshen the air in your home, apply topically to the soles of your feet-a really good maintenance oil.

Thieves Household Cleaner-an absolute staple in your home-this all purpose cleaner you dilute it (according to the directions) one capful to your spray bottle with water for general cleaning to 3 capfuls for deeper cleaning. You can clean virtual everything in your home. Its a HUGE seller because Young Living does not use any harmful chemicals. It is the BEST plant based cleaner I have tried.

Thieves spray-perfect for your purse, spray down airplane tables, shopping carts, public bathrooms and so much more-I never leave my house without it.

Thieves foaming hand-soap is in every bathroom at my home is my favorite at home and work and does not fry out my hands like other brands with as much as I wash my hands!

Last but not least Thieves Waterless Hand Purifier is effective, safe, and gentle enough for your hands, especially if soap and water aren't an option! Perfect for on-the-go washing, not only will this product cleanse and purify your hands, it will also keep them moisturized and protected. Thieves Hand Purifier has a plant-derived formula with safe ingredients that you can trust. Kick 99.99 percent of germs to the curb! AND it is totally affordable..have you checked Amazon lately?


If you are already a Young Living member
I recommend the Thieves essential rewards kit which is $118.50 item#3697:
Thieves essential oil blend, 15 ml
Thieves AromaBright Toothpaste, 4 oz.
Thieves Household Cleaner, 14.4 oz., 2 bottles
Thieves Mouthwash, 8 oz.
Thieves Foaming Hand Soap, 8 oz., 2 bottles
Thieves Waterless Hand Purifier, 1 oz., 2 bottles
Thieves Spray, 1 oz., 2 bottles
If NOT yet a member,
Here is another AWESOME way to start your Young Living Journey AND save moolah!! And there is more-you get THREE hand sanitizers in this kit-right now-NO ONE can get this needed staple!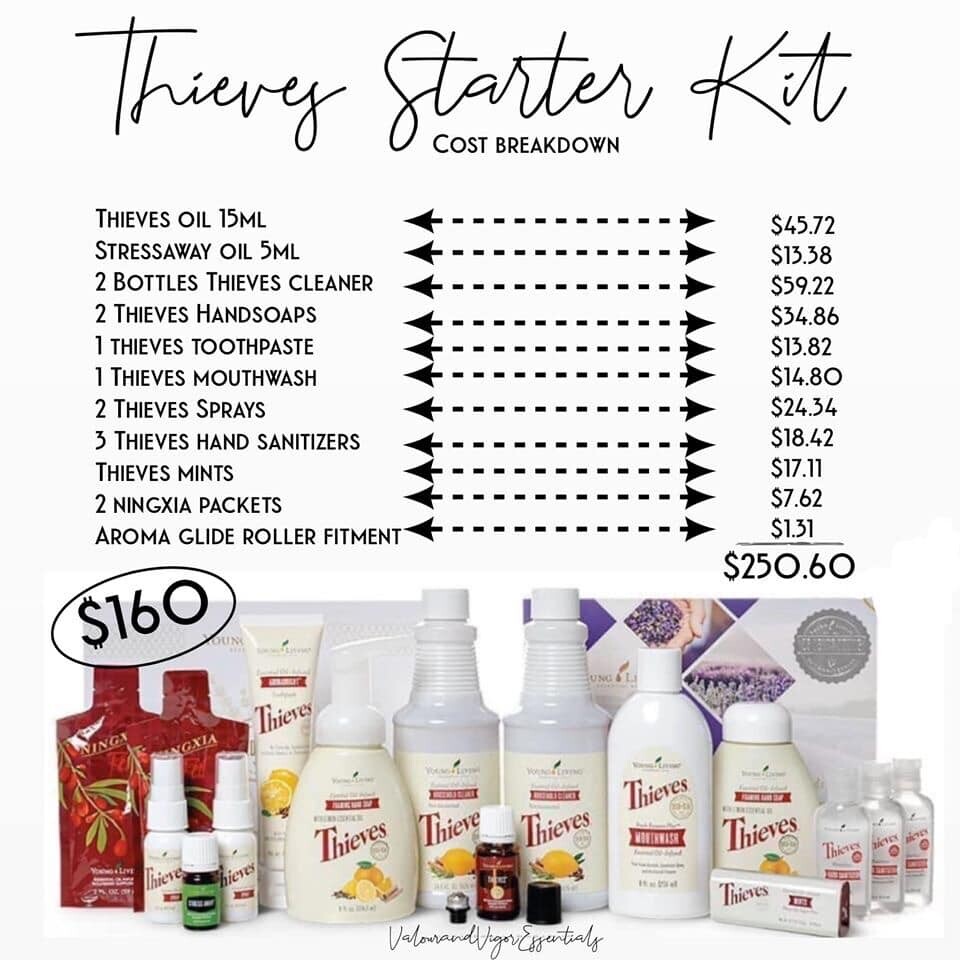 Want to learn more about the Thieves line? Join me for our next Facebook Couch class
HEALTHY HOME
I have had people ask me, if I order from you, what is the catch? Here it is....
You save 24% on ALL future orders
You get a welcome packet from me
You get ACCESS to our member only Facebook group with continued education, support and giveaways.
You get ACCESS to over 600 life changing products
You never have to order again
To keep your wholesale membership-you only need to order 50 PV (50$) per year
You have the OPTION to get what YOU want and need every month on the BEST loyalty program around called essential rewards-that rewards you with free gifts, points you redeem for products and discounted shipping (just a few perks) that you can cancel anytime.
If you order by March 27th I will credit your account with $25 for your next order
Don't want to wait for the Facebook Healthy Home class? Reply to this email and ASK me to send you the Thieves class now-and I will send you a Toxin Free Audio Class!