May 23, 2020 03:03 PM Central
Beth Aust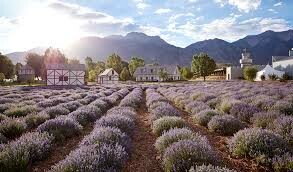 Young Living is such an amazing company that keeps the environment and the people first and foremost in mind. I have been part of Young Living for about six years and they never cease to amaze me.
David Little, Agronomist of Global Farms with Young Living gave us a virtual tour of The Young Living Farm in Mona, Utah. It was SO freaking AMAZING that I MUST tell you all about it!!
Make sure you read this to the end and then watch the video I made for you.
David was trained by and worked with Young Living's founder, D. Gary Young who taught him the art and science of natural and sustainable production of aromatic crops.
Young Living follows strict guidelines to be sure they are creating the most effective essential oils and essential oil infused products. A HUGE part is following Regenerative and Organic Practices.
Regenerative Organic is a kind of farming that goes beyond sustainability. The idea is to create farm systems that work in harmony with nature to improve quality of life for every creature involved.
Why does it matter?
Our body does not speak synthetic. The use of synthetic fertilizers began in 1908, this allowed more crops but comes with sacrifices. Most people are becoming more aware of the dangers of using synthetics (chemicals) from growing practices to the effect on our environment to the effects on human health.
Some of the dangers posed by Synthetic fertilizers:
Kill the microbiology in the soil.
Seep through the soil contaminating ground water.
Kills the balance of nature in various ways.
Lower nutritional value of the crops.
Can have a small yet cumulative effect on the health of people who eat the crops.
Why does Young Living have the most effective essential oils on the market?
It starts with the non-gmo pure seed.
Every plant has multiple species and each species has multiple subspecies. Young Living researches the specific species and subspecies that can provide the proper genetic expression of essential oils to ensure all the right constituents so its effective to work with our body to support natural wellness.
David showed us three of the Mona Farms greenhouses: One large greenhouse has 150,000 starts of golden rod and another housed 250 thousand starts of lavender. Young living plants seeds in trays in the greenhouses and then transplants them to the fields to grow essential oils. We also had a sneak peak into the Industrial hemp room with 40 plants that will produce enough seed to plant 500 acres of industrial hemp next year.
Seeds are harvested from our fields, at harvest the best plants are held back to go to seed. That seed is then saved for the following years crop.
A soil lesson in the Blue Yarrow field
Some of the regenerative organic practices used to prepare the soil to receive the seed include:
Cover crops
Organic fertilizers like compost and mulch
Amendments of organic microbes
Inter-row cover crops
Blue yarrow is a perennial plant with shallow roots. Davis showed us the fine fibrous roots which are an indication of good crop health. I learned that there should be as much root mass below as biomass above ground. I never realized how much soil structure played an integral part. What we cannot see is the microbiology or beneficial bacteria that all work together and are the "caretakers" of the plant.
Young Living has created a "living soil" which is achieved in two parts.
Ten to twenty pounds of organic compost and mulch is added to each acre when they rotate crops.
They add multi-species cover crops each with a specific purpose to fix nitrogen and put organic material back into the soil.
Organic compounds provide the nutrition to repopulate and feed the plant in a way they can use it.
Integrative Pest Management
Young Living understands the importance of using natural and biological systems to manage pests.
Beehives are in the fields so the bees can help with pollination.
Permanent weed barriers of grass and clover are used in-between the lavender crops.
Sheep are used in weeding: They eat the clover and grass and leave the lavender-with a bonus of fertilizing the fields.
The releasing of beneficial insects like ladybugs, butterflies and praying mantis who eat harmful pests like aphids, white-flies, and beetles.
Fun Facts about Young Living Farms
They have 9 corporate farms, 14 partner farms & numerous seed to seal suppliers all over the world that follow Young Livings rigorous standards including regenerative organic practices.
Our farms are all over the world and each of them have different climates, different environments, different insects, and challenges leading to different regenerative organic practices at each farm. I shared some of the plants grown in Mona and some of the organic practices used. But, for example if we travel to the farm in Ecuador, we learn it is a tropical region with more rainfall, moisture and its very humid. There are specific species of plants that are grown there with their own set of regenerative organic practices.
THIS IS WHY I ONLY USE YOUNG LVIVING.
Check out Young Living's farms and more on the seed to seal standards at
SEEDTOSEAL.COM.
Young living inspires wellness, purpose, and abundance by distilling natures gifts into pure essential oils. With a commitment to purity, Young Living continues to grow inspiring millions of people to transform their lives.
Why does this all matter?
Before you enjoy the rest of your day...
I find in intriguing the more I learn about where my oils and products come from, I have been with Young Living for about 6 years and they literally keep astounding me with all the things they do, for us.
If something you read or saw today, sparked interest or questions-lets talk!
I am passionate about educating others about the Young Living Lifestyle. My team and I are in the process on bringing more education to you, virtually.
What would you be interested in learning more about?
Essential Oils 101
A healing home with the Thieves line
Ningxia Red-Supplementation that you drink
Shoot me a message with something you learned or something you want to know more about!
Peace, harmony & essential oils,
Beth