Jul 12, 2020 06:18 AM Central
Beth Aust
I recently attended the Young Living's Virtual Convention and learned about the BLOOM skin care line, ordered it-started using it right away and am in LOVE. My skin has never felt better!
Here is what I learned that I MUST share with you...
Woman to woman, I know you care for your skin and you don't want to compromise on ingredients that may be harmful to you, your family, or the environment. Young Living is committed to offering clean, effective skin care that is safe for you and the planet. These products were carefully selected sourced created and crafted to help you. The new bloom by young living collection.
Many common ingredients in skin care products on the market can be harmful. For example, phthalates, parabens and synthetic fragrances. Bloom is a Modern, effective clean skin collection that is beautiful to look at and fun to use.
Creating bloom was a labor of love to bring high quality. This is a luxurious experience. Advanced formula and beautiful packaging. Instant hint of radiance with an instant shimmer and after consistent use you will see long term brightening benefits period bloom is great for all skin types.
Bloom Cleanser
it's a smooth gel texture with a luxurious smell. Reminds me that I have permission to care for myself and enhance my skin. The shine to it is from ethically sourced mica. The hydrating cleanser provides a good clean without stripping your skin like other cleansers. Your face feels clean but also soft and healthy. It's gentle and effective.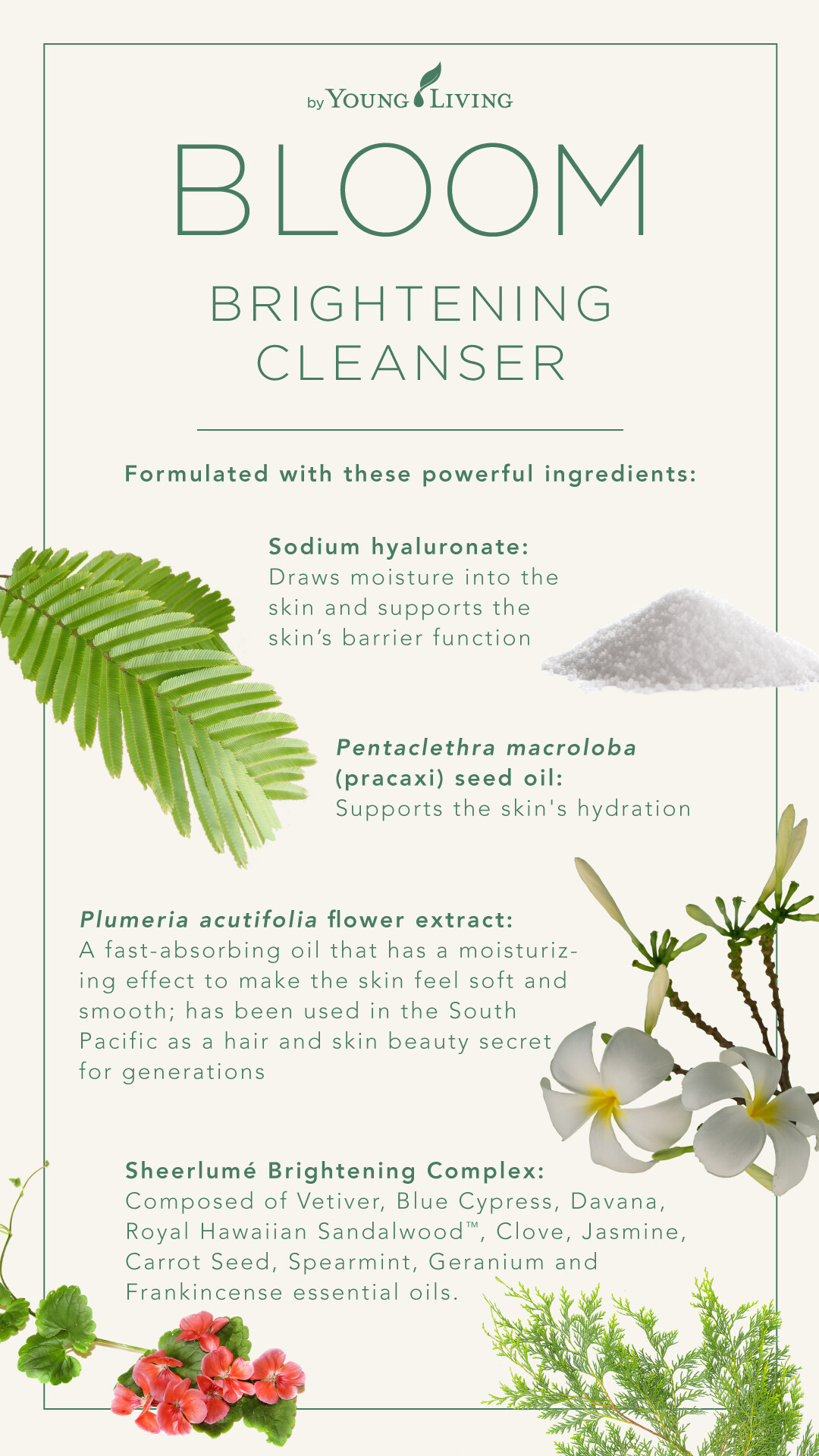 Bloom uses ingredients people know about. The primaria flower has been used to soften skin and hair for centuries with beautifying properties -from the South Pacific . Apple extract in the brightening essence is magical. It can increase hydration in your skin 88%. It makes your skin hydrated and glowy. Everyone raves about it. This is an extra step not everyone takes to take care of their skin. It feels indulgent, smooth skin texture and a nice prep step for your moisturizer. It's a little thicker than a toner but not as heavy as a cerium and it's not sticky.
The glow is so noticeable and it's due to the hydrating formula and quartz crystalline micas. Micah is a naturally occurring mineral in several places on the earth. But for this product the mica is coming from France and the US using only sustainable practices. So the particles are very fine and add a really pretty shimmer to the essence and to your skin, creates the glow, creates an optical illusion that bounces lay off your skin and makes it look smoother, younger and more radiant. This is a totally natural shimmer, radiant glow. You even see this glow in the bottle and that glow is the mica.
BLOOM ESSENCE
is the bees knees!
The packaging is really neat as well on the inside of each package is a design there is a flower for the customer to color an cut to make a piece of art all on their own. There are stress relieving benefits to coloring. You can help reduce our carbon footprint by upcycling the package as well. Share your creativeness and # bloombeauty.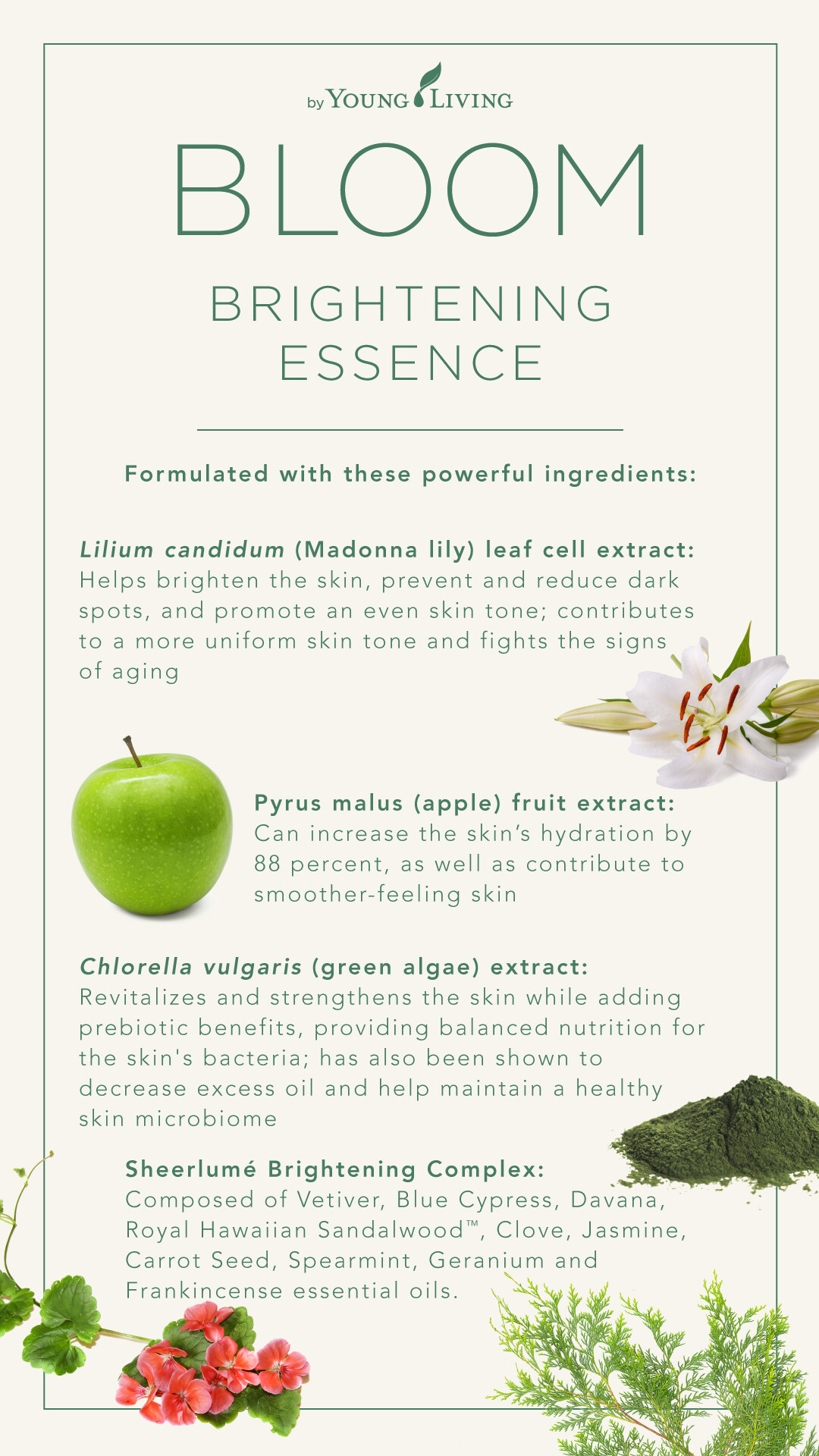 The oil used comes from the happy pili tree farm in the Philippines. Most people only need two pumps to hydrate your face without feeling heavy. Happy pili oil provides moisturizing ingredients for a nice glow . The oil comes from the nuts harvested from the Young Living happy pili tree farm in Philippines.
Ginger root extract is used to brighten skin and balance skin tone. Seaweed derived ingredients are also used to help brighten the skin an increase radiance . All these products are brightning because that is what this line was created for. Many people across the globe have uneven skin tone, dark spots, dull skin. Most products that address these concerns have tons of chemicals in ingredients that you don't want to put on your skin. You can't even pronounce them. You don't see them in nature and you don't want to.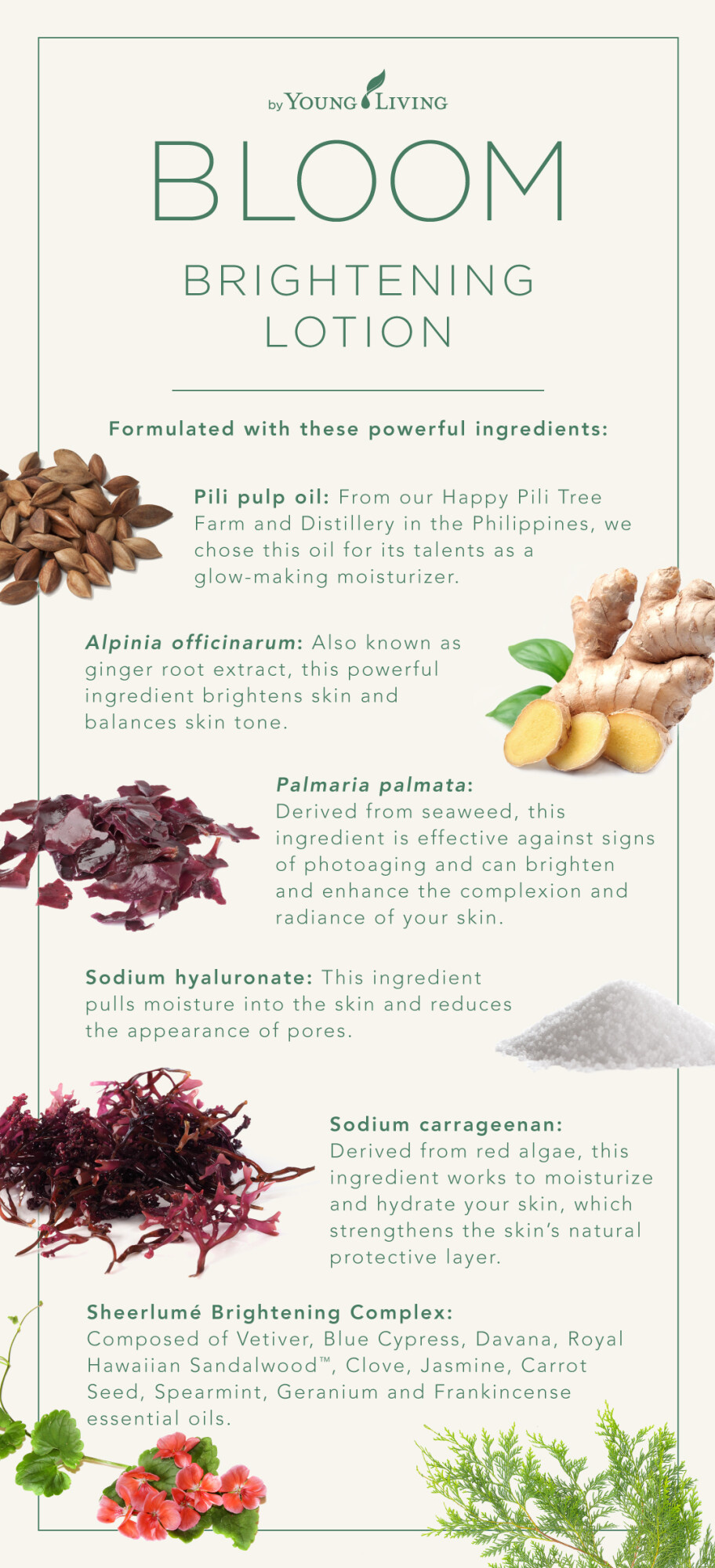 Bloom brightens the skin helps even skin tone and it's naturally derived. This is huge as more people are understanding what our environment is doing to us with free radicals and sun exposure our skin is exposed on the daily. Free radicals are created by the environmental stressors And most people know that free radicals damaged the skin but what they may not understand is that it's damaging your DNA. This is the first sign of aging starts to appear like loss of radiance, discoloration and uneven skin tone.
it is recommended that you use all three products together as a set . This kit will last between 30 to 45 days. Hong Kong sold out of a six month forecast in three hours of this bloom collection. More than 50 Young Living members around the goat globe tried the bloom products and love them.
Sherlume Has been expanded into the bloom products. An advanced formula powered by a sophisticated, proprietary blend of alpine botanicals and pure essential oils, Sheerlume will visibly brighten and balance skin tone.
B
ecause sheerlume is in each of these three products it saved lighter sent and each as you will be layering the products on your skin. The essential oils in the bloom with extraordinary benefits of these plant ingredients are davanna , vetiver , sandalwood and more.
It's recommended that you use bloom morning and night . The cleanser you simply wet your skin use a nickel size into your palm of the hand an massage into your face and rinse off but take a moment to breathe it in. Step 2 is using the essence you will want to gently shake the bottle first and use a quarter size amount and again in your palm of your hand and gently press into your skin in your neck let it set first few seconds and then use two pumps of the lotion and apply that to your face and neck as well.
Order Now!
Check out ALL the new products
HERE.
Get these Products today, your skin will thank you!
Have you used Bloom? Share your experience!