Aug 4, 2020 05:05 PM Central
Beth Aust
I am sure you have heard about companies like Revlon, Maybelline, Aveeno, dove, Estee Lauder, L'Oreal or the body shop. Many of their products have so many unknown ingredients and cost more than what you would spend in creating your own. How would you feel if you KNEW the ingredients in the products you were using were safe? Have you even thought about it?
Stop and think for a hot minute. Do you know anyone with cancer? Or anyone having trouble getting pregnant? Or anyone who has children who are behind developmentally? Or who is exhausted ALL the time? Maybe this describes you?
Removing harmful ingredients from your daily routine is not 100% guarantee that you will be free from all these health challenges, as there are many different factors involved. As a mom-I still owe it to my family and loved ones to remove harmful chemicals and do everything I can with my kids, dad, husband. Is it worth it to you to keep your family as healthy as possible?
One really simple and reliable way to have products that are safe and free from harmful ingredients is to make them yourself. Making your own products and infusing them with Young Living essential oils is a cost effective way to get premium products. BETTER products for a FRACTION of the cost.
Facial cleanser
Regular cleansing is an important part of healthy, youthful skin-but you can over do it. Dermatologists agree over washing your face can lead to irritation and lack of moisture. If you have overlay oily skin-you should wash your face in the morning and evening. If your skin is on the drier side-you should stick with once a day in the evening. Always wash your face after work outs to prevent breakouts.
Tips to getting the most of of your cleanser:
1. Take make up off before you cleanse. Most cleansers will not take off all the make up so start with an oil based make up remover. I like these
SAVVY WIPES
.
2. Avoid drastic temperature changes when washing your face-that whole wash your face hot and finish cold is a myth and can actually cause irritation.
3. It is a good idea to cleanse your face in the shower-mild steam can help soften hardened oils in pores.
4. Alternate your cleanser three times per week with a gentle face scrub-you can do this more or less depending on how your skin feels. The
SATIN MINT SCRUB
is Amazing for exfoliation. The exfoliating beads are made of jojoba beads-it's gentle, effective and refreshing.
I love the best of both worlds DIY and purchasing my own products. With so much false information out there, labels without clear ingredients and the dangers of said ingredients lurking in many of the leading brands out there-you have to trust the source. This is why I buy ALL my personal care and household products from Young Living. They are an essential oil company that has been around for over 25 years. They are the pioneer of essential oils and many companies around the world try to copy what they do BUT they are the real deal. AND they are more than just essential oils-they have over 600 products-something for everyone. With farms all over the world, a seed to seal promise and the motto of A HEALTHY HOME FOR EACH OF US, A HEALTHY WORLD FOR ALL OF US. They care about people and the planet.
I have been using the BLOOM facial cleanser, essence and lotion and my skin feels and looks amazing. These are products made from plants, the real "all natural" and you can learn more about
BLOOM HERE.
What is YOUR skin care routine?
Beth
Jul 12, 2020 06:18 AM Central
Beth Aust
I recently attended the Young Living's Virtual Convention and learned about the BLOOM skin care line, ordered it-started using it right away and am in LOVE. My skin has never felt better!
Here is what I learned that I MUST share with you...
Woman to woman, I know you care for your skin and you don't want to compromise on ingredients that may be harmful to you, your family, or the environment. Young Living is committed to offering clean, effective skin care that is safe for you and the planet. These products were carefully selected sourced created and crafted to help you. The new bloom by young living collection.
Many common ingredients in skin care products on the market can be harmful. For example, phthalates, parabens and synthetic fragrances. Bloom is a Modern, effective clean skin collection that is beautiful to look at and fun to use.
Creating bloom was a labor of love to bring high quality. This is a luxurious experience. Advanced formula and beautiful packaging. Instant hint of radiance with an instant shimmer and after consistent use you will see long term brightening benefits period bloom is great for all skin types.
Bloom Cleanser
it's a smooth gel texture with a luxurious smell. Reminds me that I have permission to care for myself and enhance my skin. The shine to it is from ethically sourced mica. The hydrating cleanser provides a good clean without stripping your skin like other cleansers. Your face feels clean but also soft and healthy. It's gentle and effective.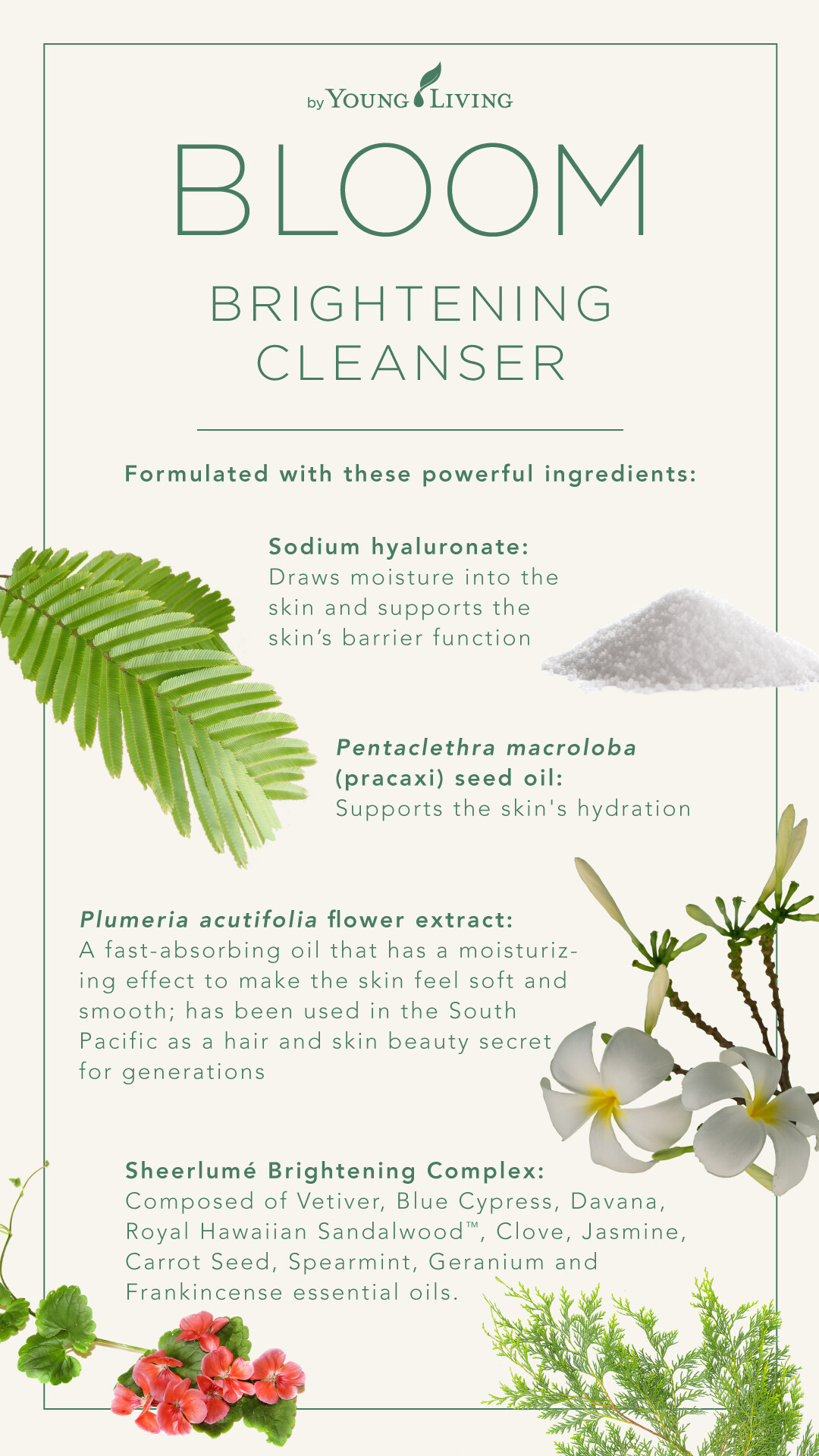 Bloom uses ingredients people know about. The primaria flower has been used to soften skin and hair for centuries with beautifying properties -from the South Pacific . Apple extract in the brightening essence is magical. It can increase hydration in your skin 88%. It makes your skin hydrated and glowy. Everyone raves about it. This is an extra step not everyone takes to take care of their skin. It feels indulgent, smooth skin texture and a nice prep step for your moisturizer. It's a little thicker than a toner but not as heavy as a cerium and it's not sticky.
The glow is so noticeable and it's due to the hydrating formula and quartz crystalline micas. Micah is a naturally occurring mineral in several places on the earth. But for this product the mica is coming from France and the US using only sustainable practices. So the particles are very fine and add a really pretty shimmer to the essence and to your skin, creates the glow, creates an optical illusion that bounces lay off your skin and makes it look smoother, younger and more radiant. This is a totally natural shimmer, radiant glow. You even see this glow in the bottle and that glow is the mica.
BLOOM ESSENCE
is the bees knees!
The packaging is really neat as well on the inside of each package is a design there is a flower for the customer to color an cut to make a piece of art all on their own. There are stress relieving benefits to coloring. You can help reduce our carbon footprint by upcycling the package as well. Share your creativeness and # bloombeauty.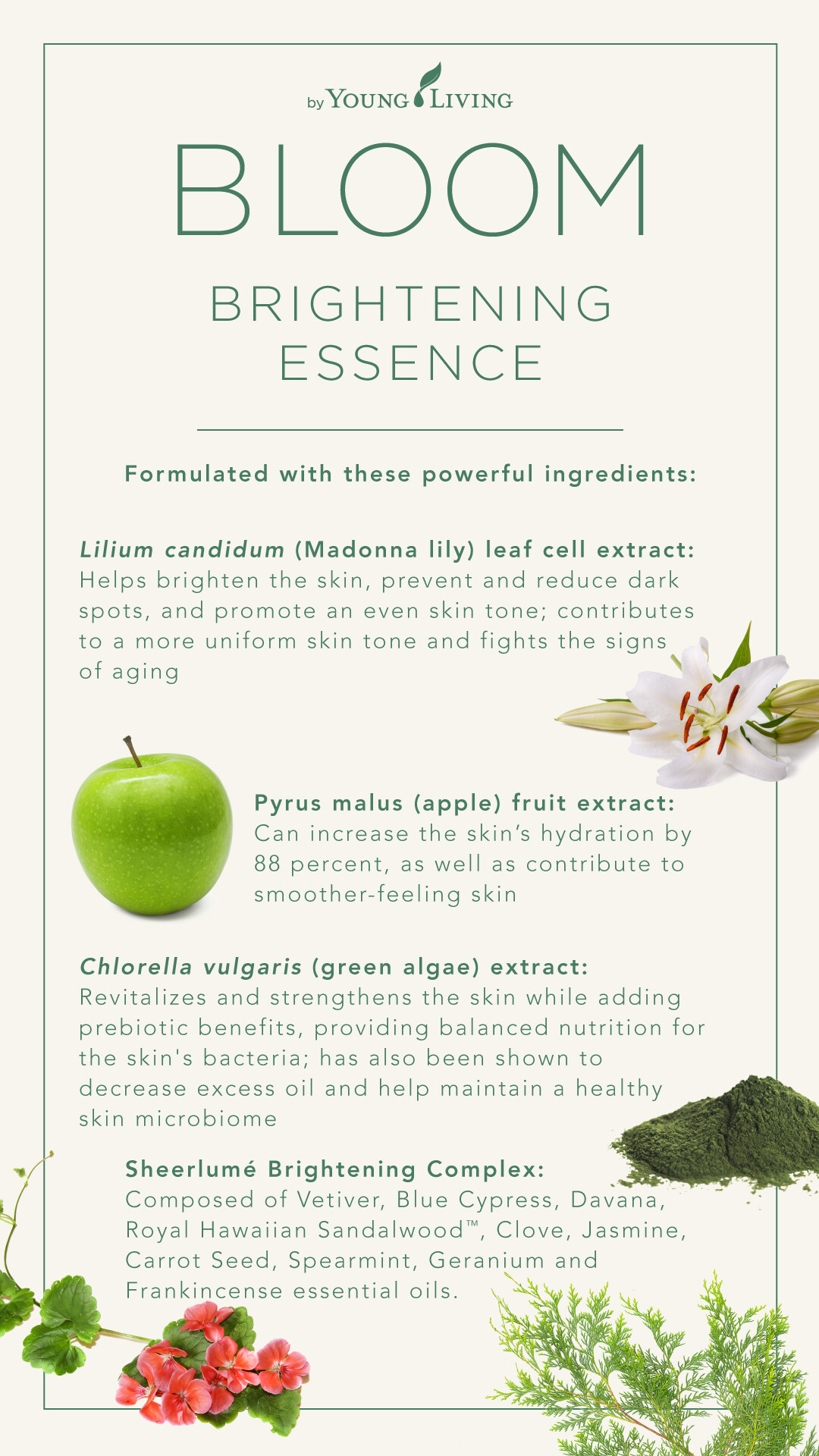 The oil used comes from the happy pili tree farm in the Philippines. Most people only need two pumps to hydrate your face without feeling heavy. Happy pili oil provides moisturizing ingredients for a nice glow . The oil comes from the nuts harvested from the Young Living happy pili tree farm in Philippines.
Ginger root extract is used to brighten skin and balance skin tone. Seaweed derived ingredients are also used to help brighten the skin an increase radiance . All these products are brightning because that is what this line was created for. Many people across the globe have uneven skin tone, dark spots, dull skin. Most products that address these concerns have tons of chemicals in ingredients that you don't want to put on your skin. You can't even pronounce them. You don't see them in nature and you don't want to.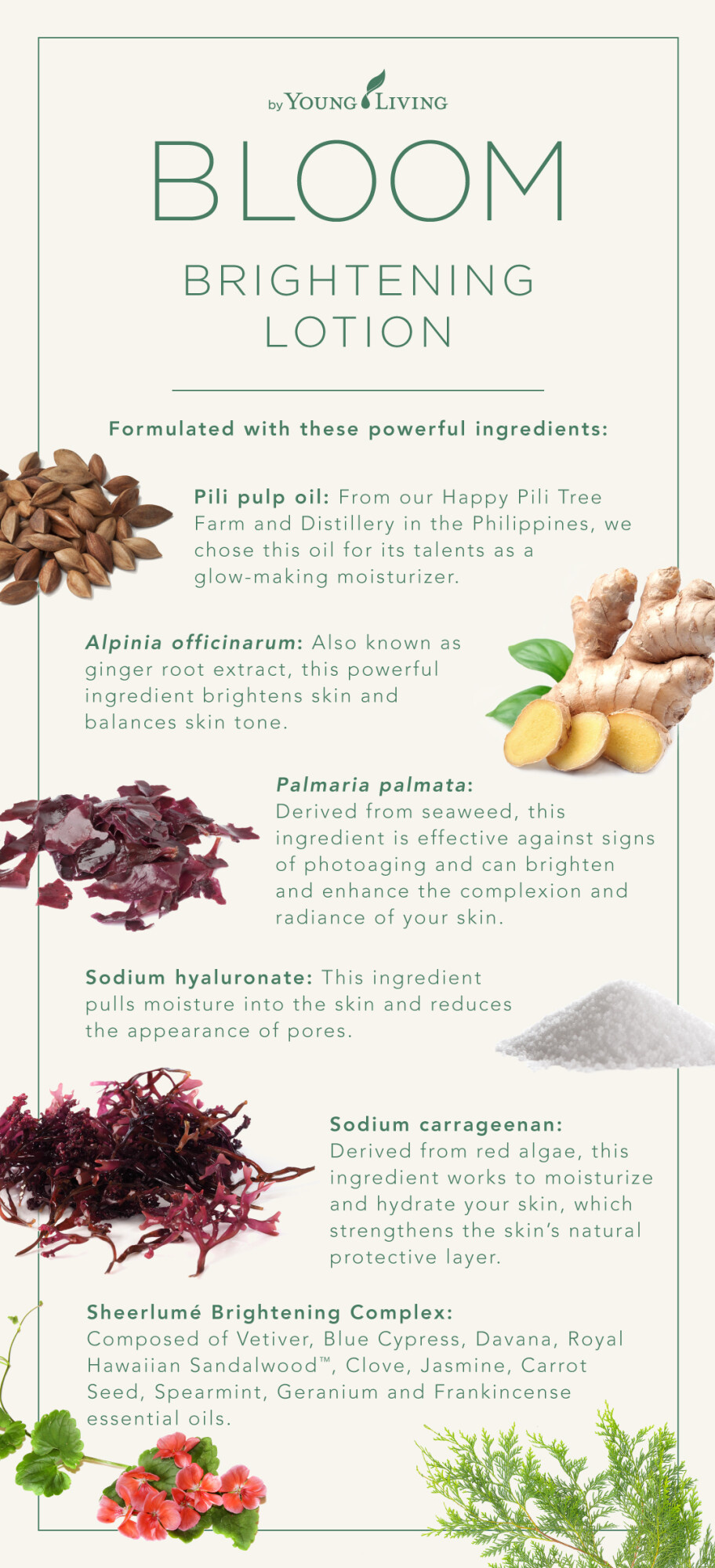 Bloom brightens the skin helps even skin tone and it's naturally derived. This is huge as more people are understanding what our environment is doing to us with free radicals and sun exposure our skin is exposed on the daily. Free radicals are created by the environmental stressors And most people know that free radicals damaged the skin but what they may not understand is that it's damaging your DNA. This is the first sign of aging starts to appear like loss of radiance, discoloration and uneven skin tone.
it is recommended that you use all three products together as a set . This kit will last between 30 to 45 days. Hong Kong sold out of a six month forecast in three hours of this bloom collection. More than 50 Young Living members around the goat globe tried the bloom products and love them.
Sherlume Has been expanded into the bloom products. An advanced formula powered by a sophisticated, proprietary blend of alpine botanicals and pure essential oils, Sheerlume will visibly brighten and balance skin tone.
B
ecause sheerlume is in each of these three products it saved lighter sent and each as you will be layering the products on your skin. The essential oils in the bloom with extraordinary benefits of these plant ingredients are davanna , vetiver , sandalwood and more.
It's recommended that you use bloom morning and night . The cleanser you simply wet your skin use a nickel size into your palm of the hand an massage into your face and rinse off but take a moment to breathe it in. Step 2 is using the essence you will want to gently shake the bottle first and use a quarter size amount and again in your palm of your hand and gently press into your skin in your neck let it set first few seconds and then use two pumps of the lotion and apply that to your face and neck as well.
Order Now!
Check out ALL the new products
HERE.
Get these Products today, your skin will thank you!
Have you used Bloom? Share your experience!
Jan 22, 2020 07:33 PM Central
Beth Aust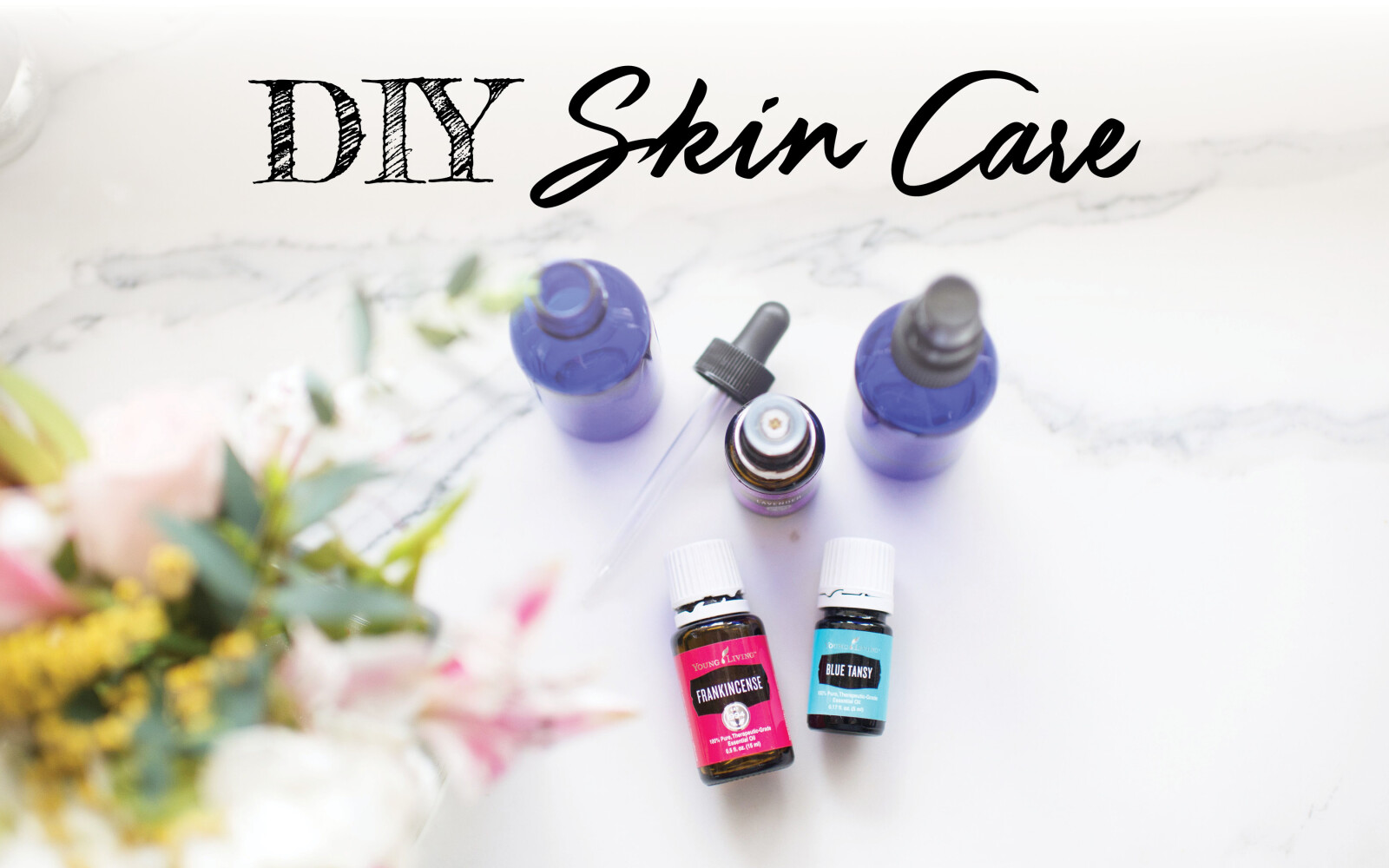 One really SIMPLE way to have products in your home that are safe and free from harmful chemicals is to make them yourself! Making your own products and infusing them with Young Living's pure essential oils is a COST-EFFECTIVE way to get premium products... BETTER products for a FRACTION of the cost!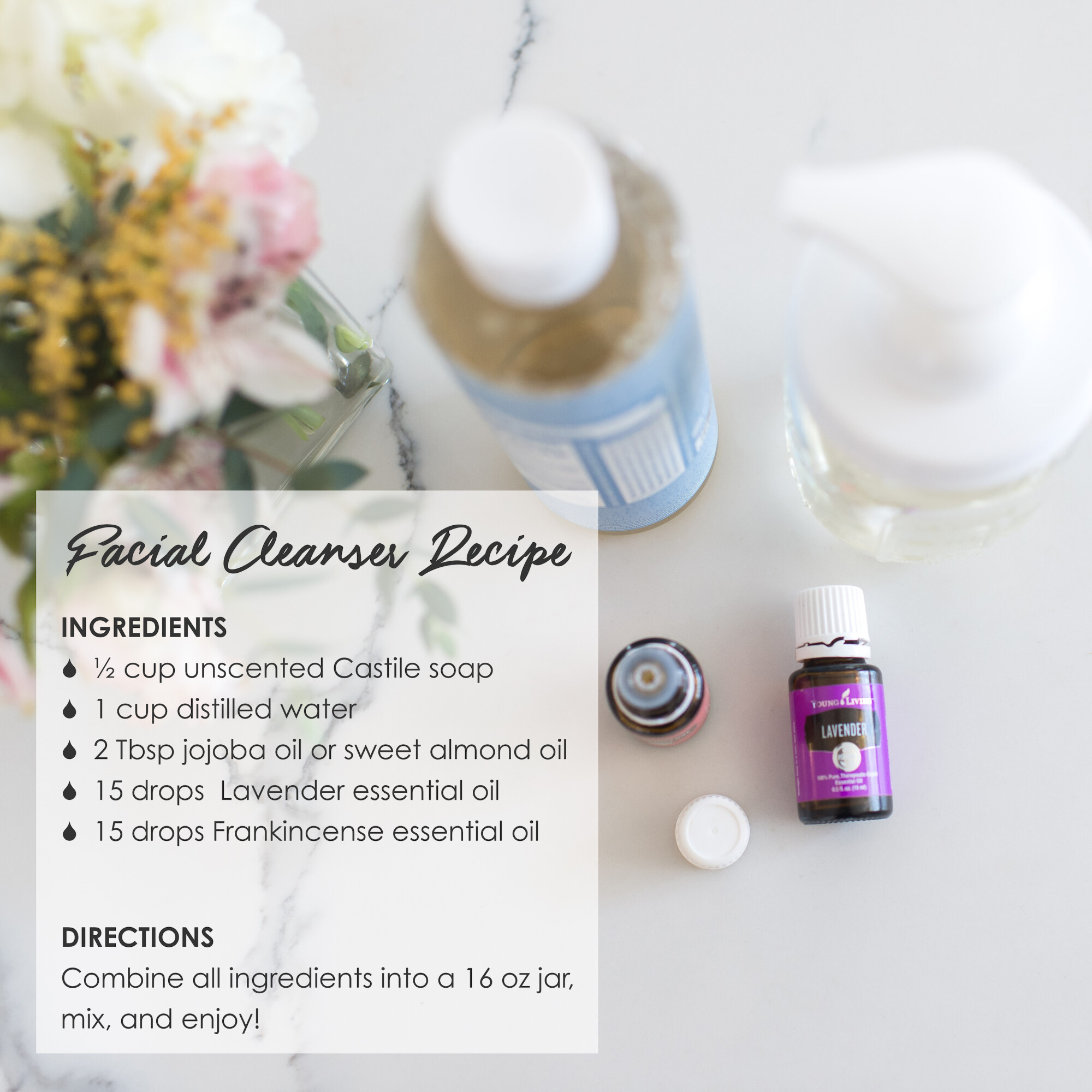 facial cleanser
Regular cleaning is an important part of healthy, youthful skin; however, you can overdo it. Dermatologists agree that over-washing can lead to irritation and lack of moisture. If you have oily skin, you should wash your face in the morning and evening. If your skin is on the drier side, stick to once daily in the evening. Always wash your face after workouts to prevent breakouts.
TIPS
1) Take your makeup off before you cleanse. Most cleansers won't remove all of your makeup, so start with an oil-based makeup remover.
2) Avoid drastic temperature changes while cleansing. According to dermatologists, the whole "wash with HOT to open your pores and then finish with COLD to close your pores" thing is a myth and it can actually cause irritation.
3) It is a good idea to cleanse your face in the shower. Mild steam can help soften hardened oil in pores.
4) Alternate your cleanser 3x a week with a gentle face scrub. Do more or less depending on how your skin feels. The Satin Mint Facial Scrub is A-MA-ZING for exfoliation.
Essential Oil Benefits
• Frankincense gives your skin a youthful appearance.
• Lavender is calming, soothing, and cleansing to the skin.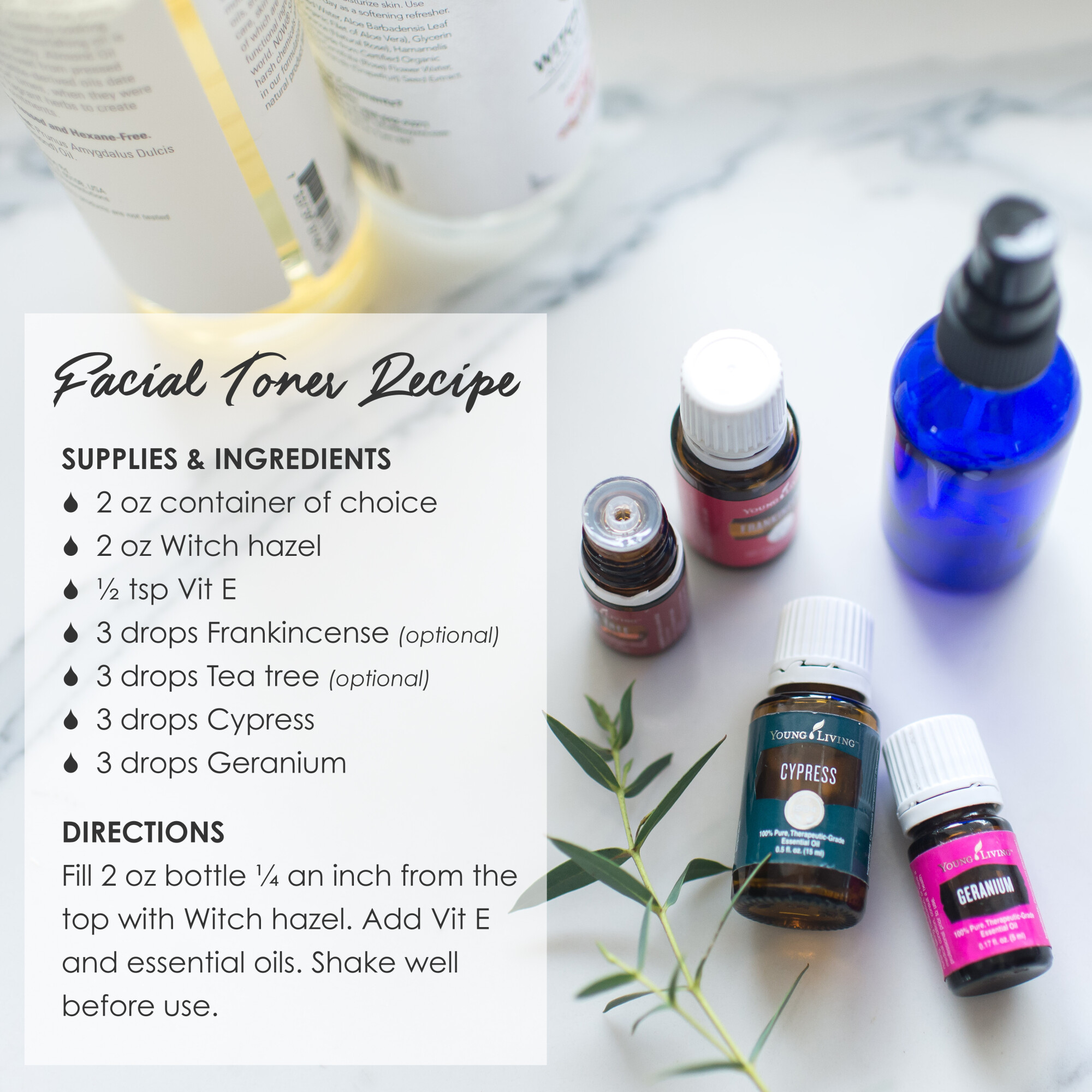 facial toner
The biggest argument in favor of using a skin toner is that it restores your skin's pH balance. Due to the alkalinity of soap, it causes your skin to be less acidic after cleansing. When the skin needs to work in overdrive to regain its more acidic natural pH level between five and six, it may overproduce oil. Using a toner can help return your skin to its proper pH level.
An alcohol-based toner strips the natural oils, so it is important to use a gentle alcohol-free toner. Make your own toner with a few easy-to-get, highly beneficial ingredients and essential oils that will transform this average toner into a premium product. Use your toner after cleansing and before moisturizing.
Vitamin E is both a nutrient and an antioxidant. Vitamin E oil prevents the formation of wrinkles by blocking free radical damage. It treats wrinkles by boosting collagen production, a connective tissue that keeps skin elastic and supports new skin cell growth and speeds up cell regeneration. If you are more prone to acne, use less or omit this from the recipe, as it is heavy on your skin.
Witch hazel is a plant native to North America and parts of Asia that has been used for centuries for its skin-soothing properties. Its powerful antioxidant and astringent benefits are known to help speed healing, prevent signs of aging, stop cellular damage that can lead to skin cancer, and eradicate bacteria that lives within the pores of the skin.
Essential Oil Benefits
• Frankincense gives your skin a youthful appearance.
• Tea Tree has been used for centuries by the aborigines to cleanse the skin. Note: this oil can be drying to the skin.
• Cypress supports healthy skin. *Use with caution during pregnancy.
• Geranium promotes healthy, clear, glowing skin.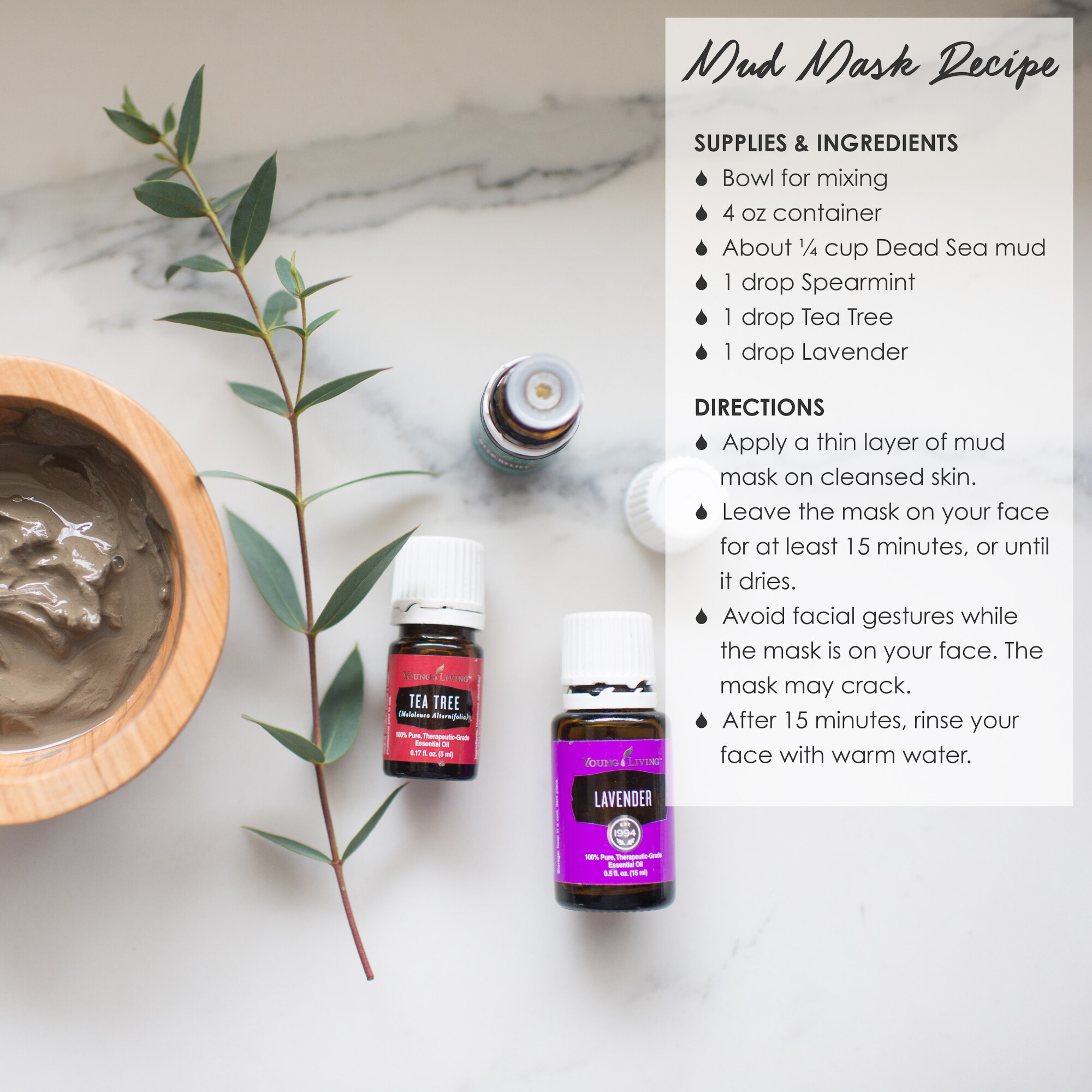 mud mask
The minerals in mud are highly effective for absorbing oil from deep within the pores as they dry, trapping the oil in the mud. Mud is often used to detoxify and tone the skin and as an anti-inflammatory agent for skin disorders.
Some other benefits of mud include: reducing signs of aging, improving circulation, shrinking large pores, rinsing away blackheads, and helping to clear acne. Please note that the mud will draw out moisture from your skin as it dries, so it is recommended that you follow up with a moisturizer. ART Light or Intensive Moisturizer are two great options from Young Living's skin care line.
Essential Oil Benefits
• Spearmint moisturizes and refreshes the skin.
• Tea Tree has been used for centuries by the aborigines to cleanse the skin. Note: this oil can be drying to the skin.
• Lavender has a calm and soothing effect on your skin.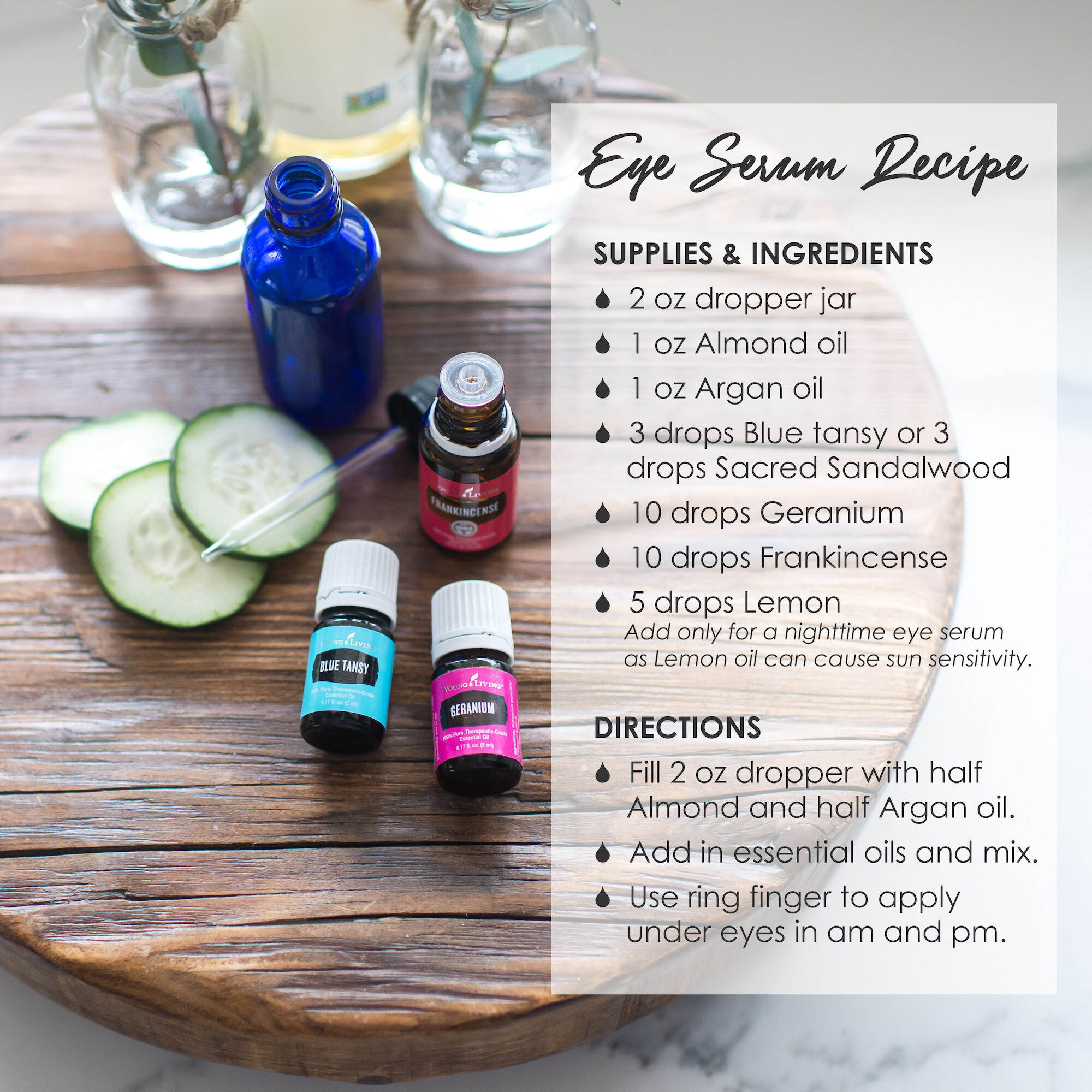 eye serum
The goal of an eye serum is to firm your eyes, decrease wrinkles, and reduce bags and dark circles under your eyes. Everybody wants that!
Argan oil is non-greasy and non-irritating, which makes it a great natural moisturizer to hydrate and soften skin and reduce the visibility of wrinkles. With its high vitamin E and fatty acid content, argan oil is ideal to give skin a natural boost.
Almond oil is very popular in Southeast Asia and in the Mediterranean region where the almond tree was first domesticated. It has gained huge popularity in the beauty industry. It creates smooth skin and reduces dark circles under the eyes. According to an article released by "Natural Living Ideas," some see reduced dark circles in as little as two weeks after applying under the eyes regularly.
Essential Oil Benefits
• Sacred Sandalwood is calming and soothing. It also provides a youthful appearance to your skin.
• Blue Tansy is a rare botanical in the chamomile family. It has become celebrated for its use in luxury skin care products. Contains skin-cleansing and moisturizing benefits.
• Geranium promotes healthy, clear, glowing skin.
• Frankincense is popular for its ability to maintain radiant skin and to smooth the look of healthy skin.
• Lemon contains antioxidants and is refreshing, cleansing, and beneficial to skin.
Become a member by purchasing your starter kit! When you become a member you will be able to purchase YL products at 24% off, join the Essential Rewards program, and have the chance to earn a thank you check for referring your friends to get their own starter kit!! PLUS you'll be added to an amazing community of people who are willing and ready to help you along this journey!
The most popular starter kit is the Essential Oils Premium Starter Kit that comes with 12 of the most commonly used oils, a diffuser, plus samples of the Ningxia Red & Thieves Household Cleaner and a bottle of the Thieves Waterless Hand Purifier!
Go to my website, checkout the videos and Pick out your Starter Kit ... HERE!
AND....IF You order your Premium Starter Kit before 1/31/2020 you will get FREE Shipping.
Your Premium Starter Kit can NOW count as your first Essential Rewards order! That means you can earn 10% back in points right away PLUS the current monthly promo oil for FREE!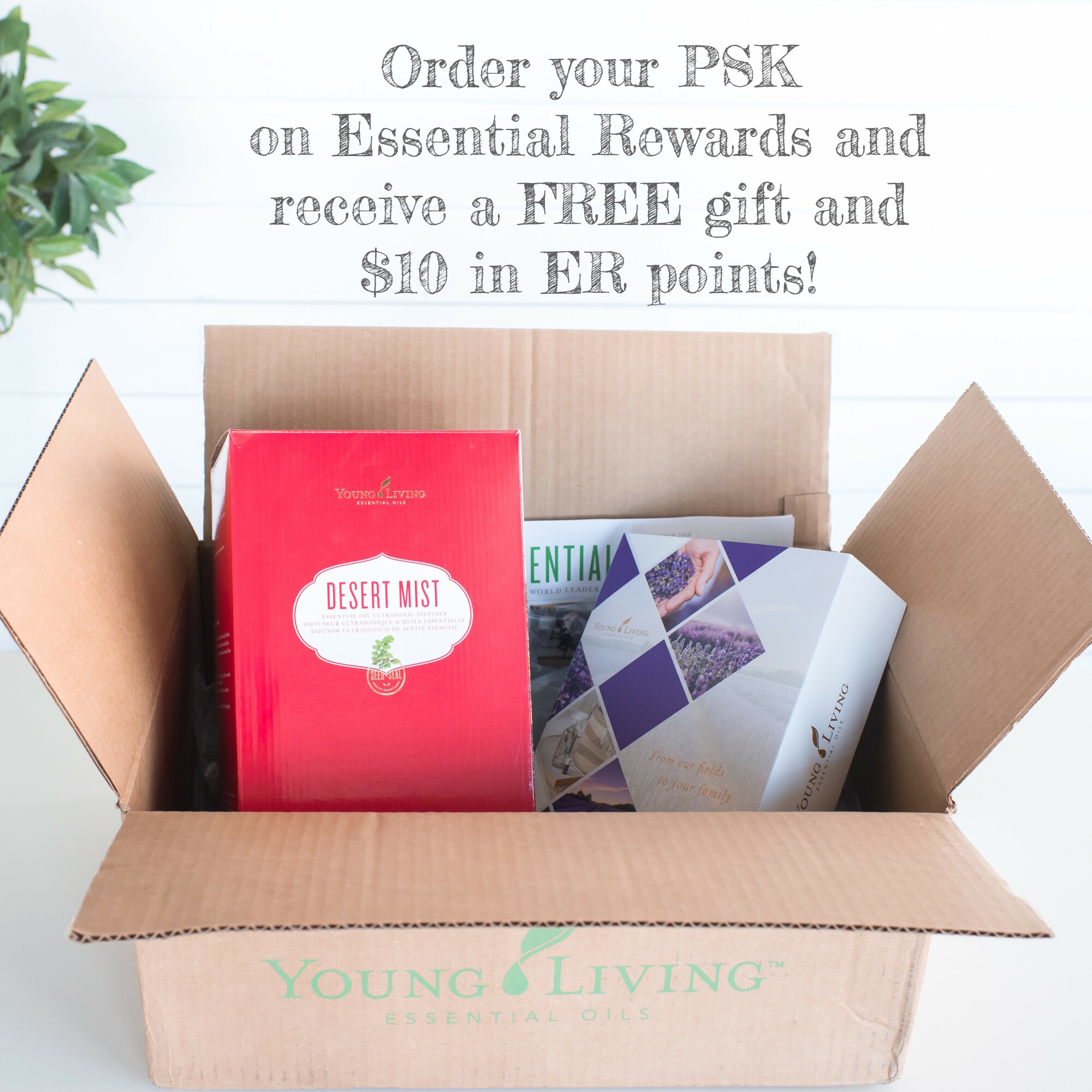 While you can join Essential Rewards (ER) at any time, I recommend joining Essential Rewards with your Premium Starter Kit as your first ER order (there will be two boxes to check to confirm this as you create your account).
Guess what??
You can now enroll in Essential Rewards right away! Your starter kit can count as your first ER box! That means you'll get a FREEBIE oil (varies with each month) plus 10% back in rewards points RIGHT AWAY!!
Ordering on ER is the best way to save money and support your health consistently. If you are already a member, I highly recommend putting your next order through as an ER order.
Perks to ordering through ER
1) You will earn ER points for every ER order placed, and you can then cash them in for free products via Quick Order.
2) Free gifts every three months and each year following. Free bonus products when you order 100 PV or 190 PV in one order. (See graphic at the bottom for all the freebies this month)
3) Cheaper shipping
4) The ability to join YL GO or YL GO+, FREE 2-4 day shipping subscriptions.
It's like Amazon Prime but better!
5) You can change the products in your cart every month.
Every month I buy probiotics, hormone support supplements, NingXia Red and then rotate a lot of the other stuff based on need at that time.
6) You can change your shipping date every month, too.
Your Starter Kit is just the beginning of your wellness journey. Commit to focus on your health by swapping out toxic products for clean products (laundry detergent, cleaner, personal care products), trying new products (supplements, home care, skin care, makeup, food, etc.), and replacing products regularly through ER.
You can cancel Essential Rewards at any time and even rejoin with no penalty. BUT you will want to cash in your ER points you have acquired through ER orders for free product before you cancel so those points are not lost and wasted.
one more thing
I am passionate about educating others. I know the impact of chemicals and what its done to my family. I want the chance to share my story to help others.It is my mission to teach 200 people the dangers of toxins in their home. I want to show them evidence of how the things they purchase everyday can cause sickness in their family down the road, by sharing science, truth and fact. If you so choose to help me reach this goal by hosting a class for me to teach and if you can get 5 friends (or more) in a room to hear me out, I will gift you a hostess basket with wonderful goodies that you can use to protect your family. So, can YOU help me? AND do you know anyone else who would be interested in a toxin free home? Together, we can train our closest friends and family to protect them.
Peace, harmony & essential oils,