May 18, 2020 12:14 PM Central
Beth Aust
My family and I have been "social distancing" since we moved up to the hills of Narnia, mostly because we live so far away from friends and family since our move four years ago. It's a minimum of a 30 minute drive to go to the store, visit loved ones and commute to work. In an effort to save time and money, I joined a few monthly subscription services. I order things like our Pet food from Chewy.com, our meat from Butcher box, produce from Misfits Market and supplements, household and personal care products from Young Living.
With many supply chains having difficulty keeping things in stock, Most global companies have had to make changes and us, consumers have had to as well. When shiznit started to get real (remember not being able to get TP) and things began (and still do) disappear from the shelves-we all began helping each other and sharing recommendations on where to find the things we needed.
With things like laundry soap, personal care products, hand sanitizer and meat becoming unavailable or with "limits" allowed at the store; it is causing great concern and even frustration. Even some of the online ordering subscriptions like Butcher Box and Misfits now have waiting lists.
Now I NEED to let you know a few of the things Young Living has done to pivot with the changes.
With increased sales on certain products leading to packaging shortages-Young Living thought outside the box and began utilizing other containers/packaging that they had for things like out hand sanitizer and thieves mints.
To meet supply and demand, they have opened two temporary fulfillment centers.
Young Living cares for their employees and in efforts to maintain the well-being and safety of their beloved staff-they are provided with PPE, hand sanitizer and social distancing practices in the workplace. If an employee has symptoms or is sick-they are sent home WITH pay.
Now, most people know Young Living is an essential oil company, but they are SO much more than that. I found Young Living several years ago and it has made a HUGE impact on my life. Not only am I a LOVER of all things essential oils, but I have created a toxin free home and made some incredible life-long friends. It has truly been life-changing.
Many of us are rethinking life. So I'm guessing you might be too. I know for many people, supply and demand (among other things) has been a real eye opener on what to do...
I invite you to listen to my Young Living story if you are .... wondering about life, ready for change or even already a member and looking for more.
Pretty cool right?
I would love to hear what YOU are thinking right now, shoot me a message back!
If you feel this could be valuable for a friend, please share this email out. I am on a mission to help a million people, change their lives. Maybe this is NOT for you, but your referral would be greatly appreciated. The more people I can help, the better!
Have a great day,
Beth
04/27/2020 11:00 PM Central
Beth Aust
I love the meme that's going around about how everything is cancelled EXCEPT laundry. It's so true! So much Laundry all the time sorry friends, I can't make it disappear...but...
What I CAN do is help you reduce the amount of toxins in your products & even save some cash, for more important things, like those DIY quarantine home projects!!!
Anyway, I was floored and pretty irritated when I found out how harmful chemicals in conventional laundry products are. Go ahead and look up "dangers of" SLS, petrochemicals, formaldehyde, phosphates, synthetic perfume, and optical brighteners. I bet you'll be pretty mad like I was.
So instead of grabbing those bottles of poison and dryer sheets at the store , and spending more than necessary, grab yourself a $35 membership from my Young Living link add on a bottle of Thieves Laundry Soap, Thieves Household Cleaner & a bottle of Lemon Essential Oil.
Young Living doesn't make you buy water so their stuff comes really concentrated. Some of my friends split the soap in half, add 2 capfuls of Thieves Household Cleaner and 20 drops of Lemon to each half and fill the bottle with water! Use 1 Tablespoon per load.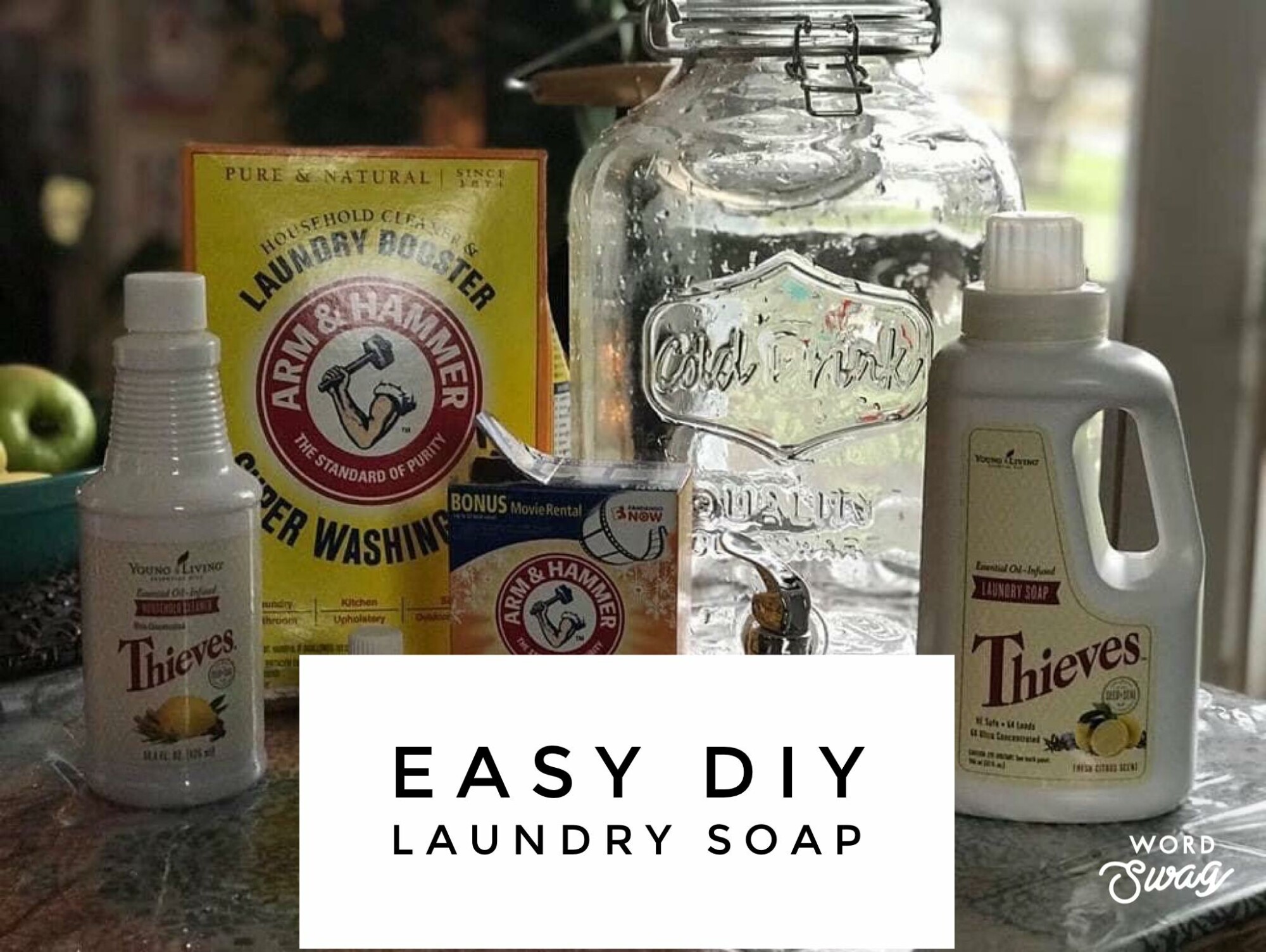 OR you can do what I did and stretch this ultra concentration formula!
Here is a tip to help stretch your laundry soap while creating a peace of mind knowing you are using plant based product instead of one filled with toxins.
Today I made 2 gallons of laundry soap using only 1/2 cup of thieves laundry soap🤗
Just think about how long one bottle of thieves laundry soap could last you🤔
In a 2 gallon glass container(or cut this recipe in half and use a one gallon container):
1/2 cup baking soda
1/2 cup washing soda
1/2 cup thieves laundry soap
1/4 cup thieves household cleaner
8 drops thieves essential oil
8 drops lemon essential oil
Add hot water to finish filling the container, stir and BOOM.
I still use 1\4 to 1/2 cup per load. So that means (using 1/2 cup per load) 2 gallons is enough for 64 loads... So one bottle of thieves laundry soap can Make eight 2 gallon containers of laundry soap...and wash over 500 loads of laundry...🥳
Then use Vinegar in your softener spot & get some wool dryer balls to replace the Dryer Sheets! You now can replace all the cleaners under the sink too with that Thieves Household Cleaner!!!!